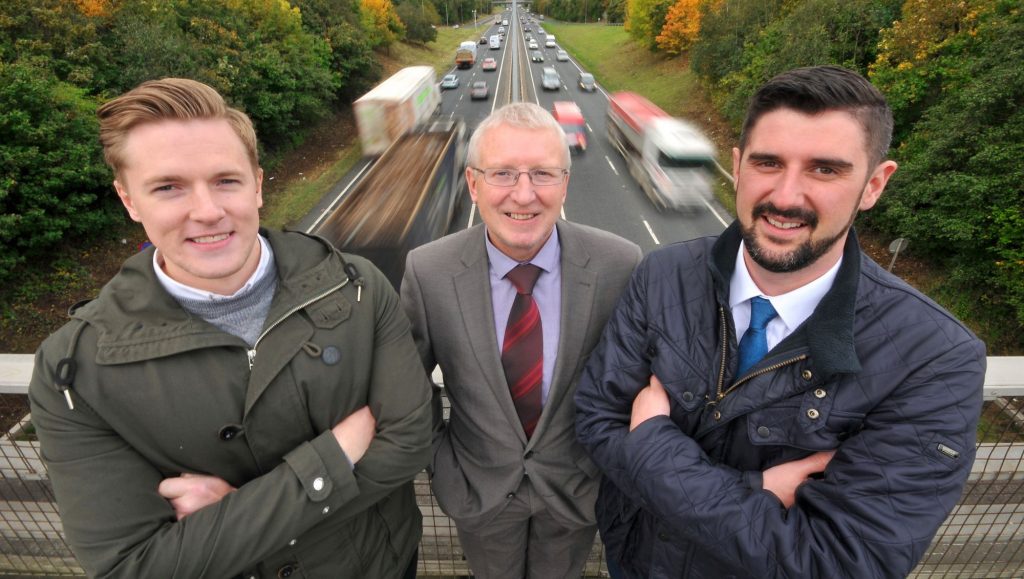 Two former colleagues are embarking on a new business venture with the launch of an international transport and logistics firm, thanks to assistance from TEDCO Business Support and a government-backed business loan from Virgin StartUp.
John MacWhirter (36) and Robert Cornell (26) from Newcastle have launched LEDA Transport Solutions Ltd. The transport and logistics firm will be competing on an international level with established delivery firms with a commitment to pick up any package in the EU within one hour.
The entrepreneurial duo launched LEDA Transport after John accepted a redundancy offer from his previous employer and recognised a growing need for affordable, reliable and fast-track delivery services for business in the North East and beyond.
John contacted former colleague Robert to take the plunge and set up the international supply and logistics firm following 12+ years in the wider transport industry. The firm specialises in providing same day deliveries in the UK as well as express transports throughout Europe, including the management of hazardous or specialist materials.
John comments: "Having worked in the industry for so many years I knew the time was right to set up my own firm. I wanted to utilise the contacts and network of transport partners I had built up to launch my own business and I was confident that with the right planning and careful research, LEDA Transport could find a niche in the delivery and freight forwarding sector without operating a fleet of our own."
LEDA Transport was set up with the commitment to reduce the 'carrying of fresh air', a logistics industry term used to describe vans or lorries returning to depots after delivering goods empty. With sustainability in transport a key issue, LEDA Transport will call on its partner networks across the world to make use of vehicles already on the road and pick up deliveries anywhere in the EU within one hour.
John said: "Our partner networks are key to the business, we can literally pick up any package within one hour in the EU just by utilising vans and lorries already on the road so we don't add to congestion on the roads with our own fleet. From a sprinter van to articulated lorry, we can arrange just about any kind of pick-up and delivery for a range of loads in a matter of minutes."
John and Robert worked with Janice Ross at the Business Factory in North Tyneside for early support in the key elements of setting up a new enterprise such as business planning and cashflow forecasts. When looking at forecasts it became apparent that additional investment would be needed to supplement the private funds of the business founders and so Bill Hartshorne at TEDCO Business Support worked with LEDA via the RGF funded Start and Grow programme to help get the firm investment ready and secure a business loan.
John continues: "TEDCO delivers the Virgin StartUp programme in the North East so we were able to work with Bill to get LEDA Transport investment ready and successfully applied for a Virgin StartUp loan. I was well aware that 80% of new businesses often fail in the first year because of a lack of working capital so I wanted to have plans and funding in place to meet the problem head on.
"In total we received £10,000 in a Virgin StartUp loan which along with our private funds and support through the New Enterprise Allowance got the business up and running quickly and helped set up a key sales platform – our website. We are focused heavily on meeting the needs of b2b customers and in just a short time have already built up a customer base of 30+ local businesses who have all carried out repeat business with us. We are so grateful for the help we received to get the business investment ready but also Virgin StartUp for what is a vital and much-needed source of business loans to help new enterprises."
LEDA was supported by TEDCO as part of the Start and Grow programme, which is delivered by TEDCO Business Support in the North East and supported by the Regional Growth Fund (RGF). The programme is delivered throughout England by Cavendish Enterprise in areas where there are lower levels of business start-up to help new enterprises get up and running and develop new employment opportunities in the private sector with a range of services, including one-to-one mentoring, business planning and helping new ventures get investment ready.
Bill Hartshorne, TEDCO Business Advisor comments: "LEDA Transport is a clear example of two people with the experience, contacts and knowledge to create a business recognising that they can turn those skills into a self-employment opportunity. John and Robert had a clear proposition for a business market and their supply and logistics network allowed them to offer their services not just in the UK but throughout Europe. They had an understanding of the potential hurdles of the start-up phase when it comes to cash flow and with the help of Virgin StartUp can now push forward to make LEDA Transport into a growing business opportunity."