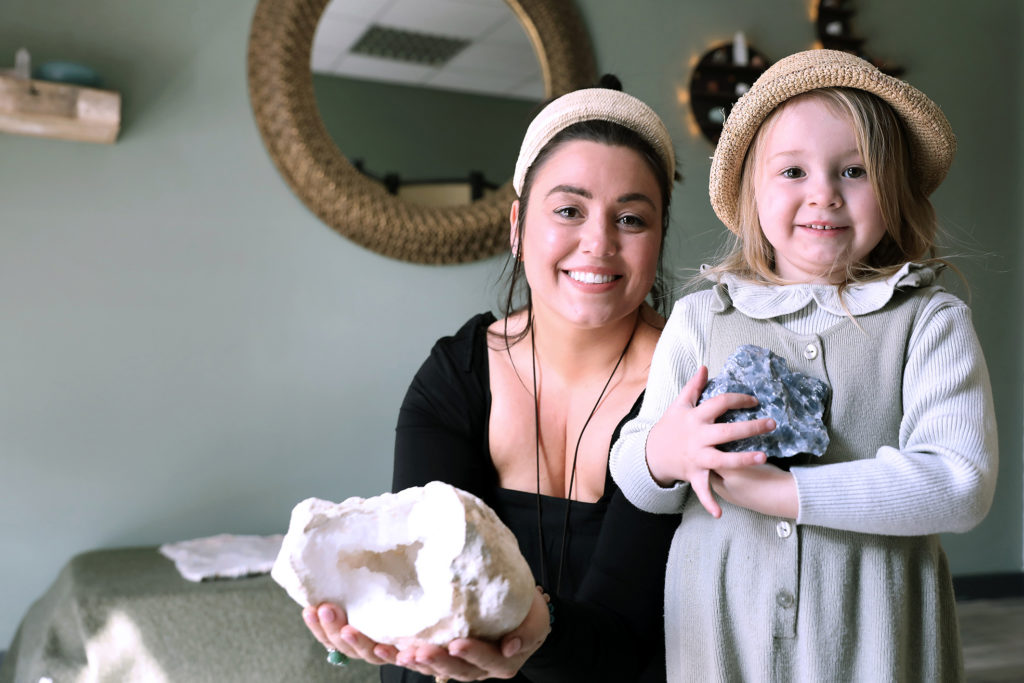 A Sunderland mum is launching a business to share the benefits of the alternative therapies she credits with dramatically changing the lives and fortunes of her own family.
Claire Nicholson Bell became convinced by the power of meditation after seeing the comfort it brought to her dad as he battled with terminal cancer ten years ago.
Now, inspired by her own 'incredible' healing experience after recovering from punishing IVF treatment for infertility, Claire has created holistic therapy centre Dark of the Moon Holistic, based at the North East Business and Innovation Centre (BIC).
She said: "In the Western World we are finally waking up to the benefits of meditation, mindfulness and alternative therapies – especially after the year we've just had.
"But my dad was ahead of the trend a bit. He was a real 'Sunderland bloke' who loved going to the match and having a pint with his mates, but really got into meditation and Buddhism when he was diagnosed with terminal cancer. It changed him in a really positive way.
"It brought him real peace and kept him with us for four precious years. Back then I wondered if it can change a man's life in that short space of time, what can it do for the rest of us?"
It was in 2016 that Claire, an NHS worker at the time, says she found the answer to her question. She turned to crystal healing after four failed courses of IVF over two and a half years had left her mentally and physically exhausted. And that's when her life changed forever.
"I was on a break from the IVF but had to do a routine pregnancy test at the clinic as part of a check-up," she said. "I was really upset because it seemed so cruel to put me through that when I had no chance of being pregnant.
"But I could hear the staff whispering in excitement and then a nurse came in the room crying in happiness – she told me I had conceived naturally. It was incredible.
"I'm not saying for a moment that some crystals made me pregnant! But the therapy helped to change my mindset and that mental change clearly created a physical change. I stopped viewing my body as a broken tool and decided to heal it instead. A while later we decided to try for another baby and after using the therapy again, I fell pregnant immediately."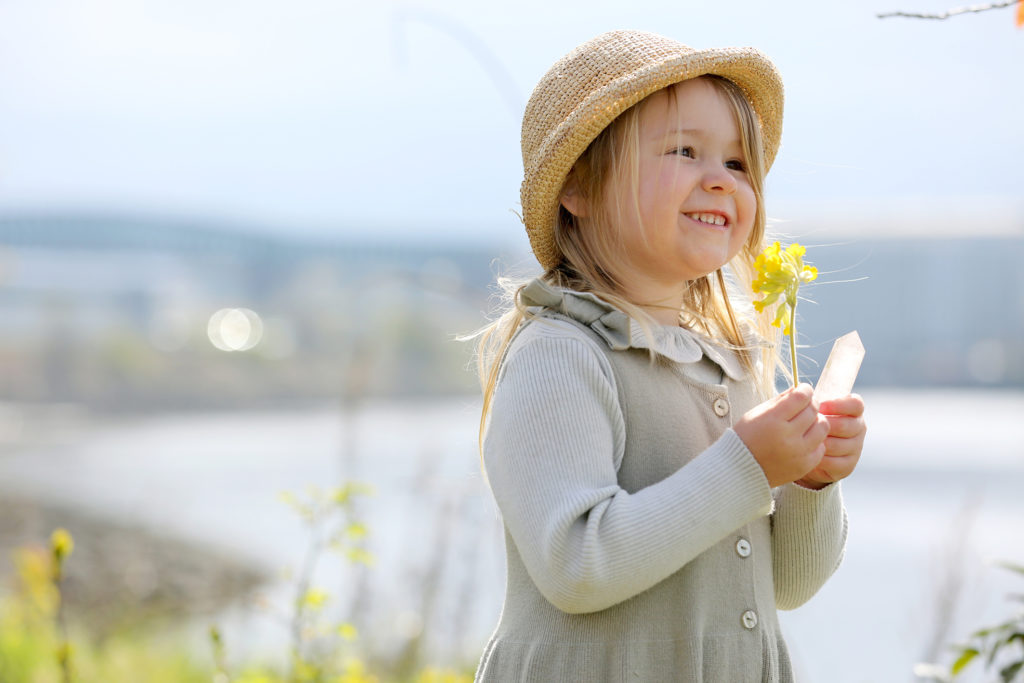 After her second baby, Claire began meditation coaching for friends and family, before becoming a qualified instructor. Then, during lockdown she decided to share her skills wider and after working with a charity to provide guided sessions, she decided to set up a dedicated space where she could run her own business.
She said: "I wanted somewhere that I could build into a sacred space. Somewhere clients can come to feel safe, positive and to heal. A friend of a friend recommended the BIC and I couldn't believe what was on offer when I came to have a look around.
"The riverside location is stunning – it's a pretty magical place to be. I cannot believe the value for money you get here, the services that are provided and the facilities that are on the doorstep. I'm looking forward to building a community here with the other businesses on site – it's such an exciting time."
Claire has set about transforming her incubator unit into a calm and restful studio where she will provide guided meditation, sound healing, reiki, luna wellness, crystal therapy and crystal meditation. She will soon add mindfulness for children to her list of services.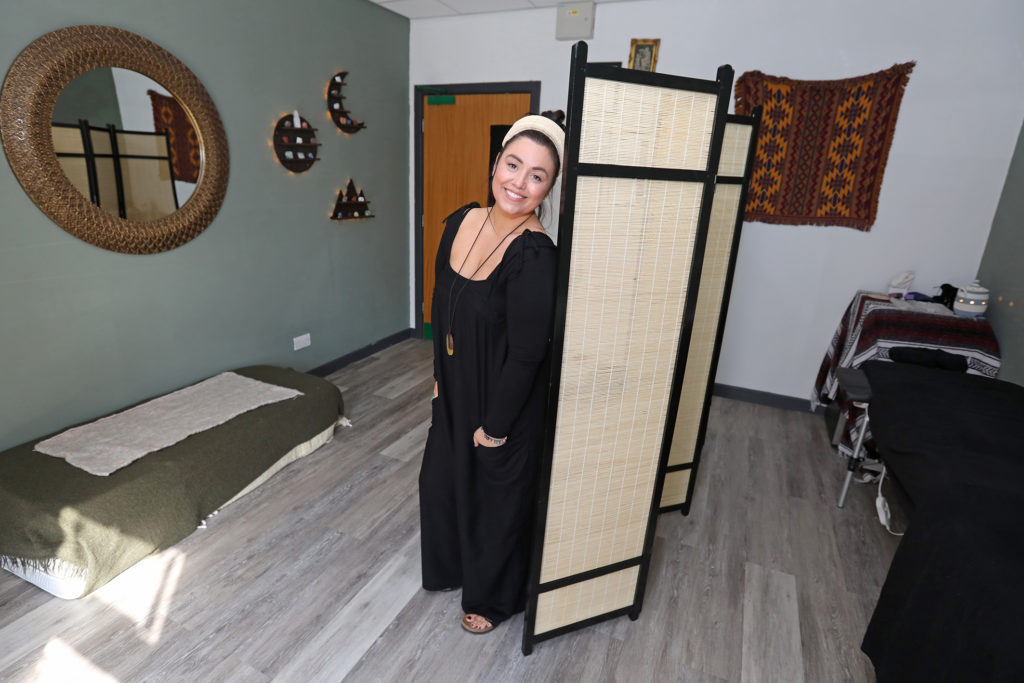 Dark of the Moon Holistic will offer group, individual and virtual sessions, as well as a library of on-demand courses and Claire is especially keen to engage with newcomers to alternative therapies. Ultimately, she aims to set up her own alternative therapies training academy.
She added: "I always say to those who are skeptical to just give up one hour of their time to try something new and I guarantee they will come away feeling better for it. We all need a little bit of quiet time to just turn down the noise and focus on yourself.
"I'm a big advocate of using alternative therapies in addition to traditional medical and talking therapies – they're not a replacement. They complement those therapies by providing another way to relax, heal and relieve anxiety."
Donna Surtees, Centre Manager at the BIC, said: "Claire is part of a new generation of businesses that are opening at the BIC and are creating a wave of excitement across the park. We're delighted to welcome so many interesting and varied companies.
"Dark of the Moon Holistic is a great example of a lockdown business that is perfectly positioned to provide the kind of services that are in demand as we navigate these unusual times."