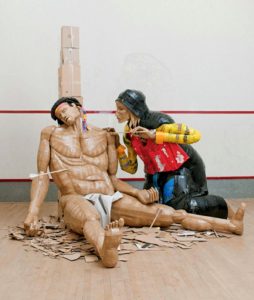 THREE unique art exhibitions will be making use of a former Sunderland city centre pub, as part of an innovative series of events.
Athenaeum Nights has been created by North East-based arts organisation, Breeze Creatives, supported by Sunderland Business Improvement District, which will see the former Pilgrim Pub at Fawcett Street transformed in to a temporary art gallery.
And the hope is that the displays will prove so popular that the pub – which was formerly known as the Athenaeum Building – can be turned into a permanent exhibition space.
The initiative is part of the 10 x 10 project, which saw ten businesses each teamed with a regional arts organisation.
The first Athenaeum Nights kicks off on Thursday 10 November with a three-day exhibition by contemporary, London-based artist Dylan Shields, who studied at Northumbria University and is renowned for creating sculptures made entirely of cardboard and sticky tape.
The following Thursday, coinciding with the city's Christmas light switch-on, the former pub will host a unique tribute to mark the contribution made by Wearside-born chemist and physicist Joseph Swan to the world of photography.
The event is being delivered by North East Photographic Network, as part of the Barlow series of lectures run by Breeze Creatives, looking at the contribution Joseph Swan made to photographic practices.
Finally, on November 24, the venue will play host to Babble, a performance bringing together poets, technologists and dancers.
Laura Hartland-Adams, Events and Operations Manager at Sunderland BID has worked with Breeze Creatives to bring the project together.
"We are looking forward to giving people the chance to see and enjoy some new and inventive art while breathing new life into an old building," she said.
"Since Joseph Swan was born here in Sunderland, we thought it would be a great idea to acknowledge him on the same night as the big Christmas switch-on. It's always a very popular event on our calendar, but we want to also use it to raise awareness of what we are doing with the 10 x 10 project.
"I am hoping lots of people from across the city will visit all of these very different events this November. Breeze Creatives has done a fantastic job and I'd like people to come out and show their support."
All the events are free to attend with the exhibitions open from 7.30pm to 10pm and the performance of Babble starting at 7.30pm. Places to see Babble are limited to 150 and will be offered on a first come/first served basis.
Further information about Sunderland BID is available from the website: www.experienceithere.co.uk