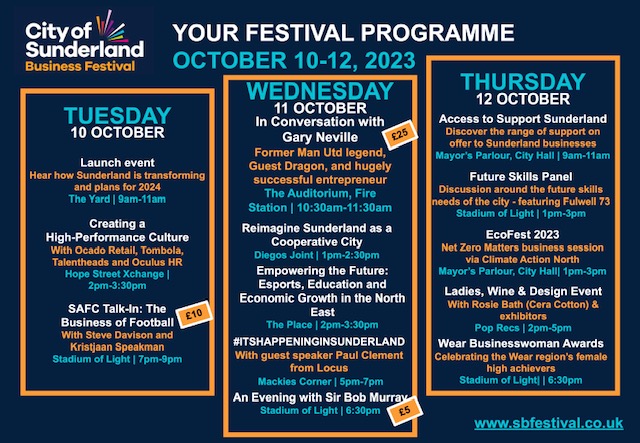 A stellar line-up of speakers has been announced for Sunderland Business Festival, with footballer turned successful entrepreneur Gary Neville headlining the event.
The former Manchester United and England fullback will be taking part in a fire-side chat on Wednesday, October 11, as part of the three-day festival.
Other organisations taking part in the events – which run from 10 – 12 October – include Tombola, Fulwell 73, Sunderland AFC, British Esports and Ocado Retail, alongside leaders from key Sunderland organisations.
The Sunderland City Council-backed Festival, which is running for the third time this year, aims to inspire businesses from across the region.
The first day of the festival will include a panel discussion around how to develop a high performance culture and the benefits to businesses. Panellists will include: James Beard from Tombola, Kelly Swinney from Ocado Retail, Sam Spoors from Talentheads, Louise Kennedy from Oculus HR, and will be hosted by Natasha McDonough from MMC Research and Marketing. In the evening Sunderland AFC sporting director Kristjaan Speakman and chief operating officer Steve Davison will be appearing at an event giving attendees insight into how they are looking to build on last season, as well as learning more about work behind the scenes to build a sustainable club.
Day two will include headliner Gary Neville who will discuss his business career and how the leadership skills that led him to being captain of one of the biggest clubs in the world helped him become one of the UK's most high profile business people. Later in the day, British Esports will be hosting a talk and offering a guided tour of its cutting-edge National Esports Performance Campus. And North East BIC will be running a session exploring how adopting the cooperative principles and ethos can help to create a more engaged, dynamic workforce and a more connected business community. In the evening, there will be the chance to hear about Sunderland Business Improvement District's new business plan and hear from guest speaker Paul Clement from Locus. Rounding off the day will be former Sunderland AFC Chairman Sir Bob Murray, who will join guests for a special talk-in, hosted by BBC's lead sports commentator Guy Mowbray.
The final day will kick off with Access to Support Sunderland, showcasing help available to businesses in the city. Later there will be a panel discussion focussing on future skills needs featuring Fulwell 73, following its recently announced plans for a film studio to Sunderland. On the same day, EcoFest 2023 will take place looking at why net zero matters to business. In the afternoon Ladies, Wine & Design Sunderland is hosting its first mini makers market, bringing together local creative lasses and championing their entrepreneurial journeys. The festival will culminate with the Wear Businesswomen Awards, which will shine a light on the Wear region's female high achievers, with a ceremony held at the Stadium of Light.
Patrick Melia, chief executive of Sunderland City Council, a key supporter of the festival, said: "It's a hugely exciting time for Sunderland, with huge levels of investment being attracted to the city, all of which is going to have a hugely positive impact. We're keen to showcase the great things that are already happening in Sunderland and also highlight the opportunities there are going to be in the future."
The festival is being organised by Sunderland Business Partnership, a collective of organisations – large and small – all with an interest in the city's development, creating opportunities for members to collaborate and grow, which in turn helps Sunderland to be a more dynamic destination for business.
Sunderland Business Festival is sponsored by Sunderland City Council, University of Sunderland, Building Design Northern, Sunderland College and Creo Comms.
Professor Lawrence Bellamy, Academic Dean, Faculty of Business, Law and Tourism at the University of Sunderland, said: "We're delighted to be sponsoring this fantastic Festival, and supporting a packed programme of business events to the city, including what will be a fascinating talk with Gary Neville.
"Sunderland Business Festival is a brilliant showcase of this area as a place to do business and we're delighted to be at the heart of that." For more information or to book tickets for specific events visit www.sbfestival.co.uk