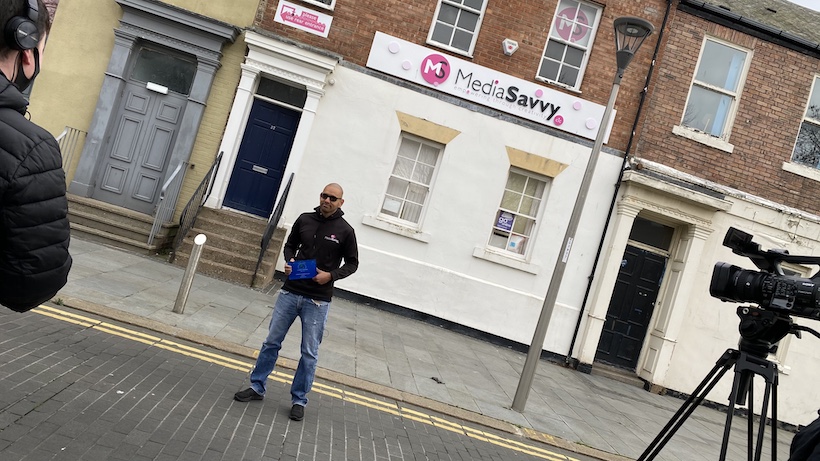 Sunderland-based social enterprise Media Savvy CIC has been crowned as 'Outstanding Social Enterprise" at this year's North East Charity Awards.
The awards ceremony, as many events this year, was held virtually across the North East Charity Awards' social media channels, December 3rd. The evening celebrated and recognised the hard work of several North East charitable organisations, together with the businesses and individuals that support them.
The event featured ten different awards with Media Savvy, the not-for-profit, established 2010, picking up a win in one of the categories.
Media Savvy's Co-Founder and Managing Director Dan Makaveli, who is also a University of Sunderland graduate and Academic Tutor said:
"This award was totally unexpected and the whole team are absolutely delighted with the news. We've achieved some substantial milestones over the years and previously received many other awards, but this, region-wide accolade really is up there with the best of our achievements.
"Having recently celebrated our tenth birthday, this prestigious award serves as a reminder and validation to both myself, the team as well as our stakeholders, that we are doing good things here. Many noteworthy organisations are never recognised for the great work they do which is all the more reason why we do not take these achievements lightly.
"A massive thank you from me goes out to the whole team, everyone who has supported and believed in us over the past decade and most importantly our learners – the driving force for us being here!"
Media Savvy's vision is "a society where each individual feels valued, has access to suitable education and the opportunity to realise their potential." Their mission is "to unite and empower our community through creativity, innovation and education."
Through their application of non-traditional learning methods and highly successful 'learning by stealth' approach, the organisation is committed to being a key part of the positive progression of a diverse range of individuals, many of whom are dealing with multiple and complex barriers.
This promotion of education, employability skills, creativity and in some cases, also recovery and rehabilitation comes via a wide-ranging digital suite of courses and workshops alongside alternative health and wellbeing offers. Beneficiary groups include offenders, mental health service users, people with a learning disability and/or autism and long-term unemployed.
The organisation has recently received thank you messages from several learners for their support during the pandemic. One learner (LW), said:
"I would like to thank Media Savvy for their support during this difficult time dealing with COVID-19 and the consequences it has had on me personally. I was about to start volunteering as a classroom assistant when the lockdown started but COVID put an end to that. Without their support, guidance and quick thinking, I would've become very depressed and isolated. They helped keep my spirits up, kept me going, kept in touch and kept me busy. They have all given me my self-esteem back and hope for my future again"
The "Outstanding Social Enterprise" award is the latest in a long line of achievements for the Sunderland-based social enterprise who has also celebrated its tenth anniversary this September. Back in their start-up phase, 2012, with only a few thousand pounds turnover, the not-for-profit organisation was named "Best Start-up Business in the North East and Yorkshire" from over 200 shortlisted in the inaugural Lloyds TSB Enterprise Awards. Eight years on, and very much looks like Lloyds' faith was well-placed.