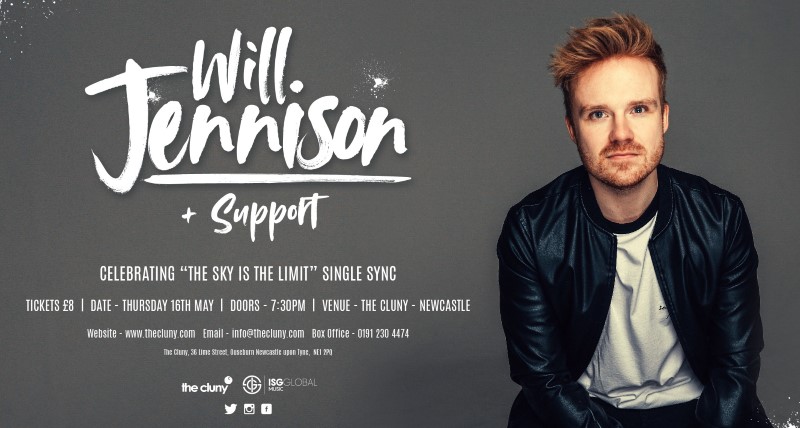 Local musician Will Jennison will be reaching new heights this Thursday when he, along with his live band, will take to the stage at iconic Newcastle venue The Cluny for a very exclusive musical celebration.
Last year Will, along with Eliot Kennedy and Peter Waite wrote the song "Sky Is The Limit" inspired by Sunderland International Airshow. After its release, the song was picked up in Australia and it became synced as the official theme tune for a TV show called Xventurer Family Challenge, broadcast weekly on the Channel 10 network.
As a result of the sync, "Sky Is The Limit" is now recognised in households right across Australia and New Zealand. Jennison's management ISG Global, based in Sunderland, decided to throw Will Jennison a party to celebrate such an achievement.
Frontman Will said "It's amazing to think that our song is being listened to on the other side of the world. It's a brilliant track and I'm really proud of it. I'm looking forward to singing Sky Is The Limit and some other original songs on Thursday."
Will, who studied music at Newcastle College, was approached by grammy award winning songwriter Eliot Kennedy after watching them perform live in 2017. They have since written songs together and Eliot has co- produced their EP, along side Peter Waite, which is to be released later this year.
Eliot said: "When I first saw Will I just knew he was going to be a star. He is such a talented guy, he's great to watch and and he writes really, really great music."
In addition to Jennison's performance on Thursday, the Cluny audience will be treated to performances from other local artists, chosen by the band including Kat D and Thieves of Liberty.
Manager Paul Waite from ISG Global said: "Will has such a bright future ahead. This was a superb opportunity to get overseas coverage of Will's music. We will be hopefully be heading over to Australia soon on the back of this promotion but in the meantime we wanted to celebrate in his hometown. It's going to be a very special night."
The event is predominantly guest listed but a handful of audience tickets are remaining.
Purchase your tickets here

To hear the Sky Is The Limit, click here