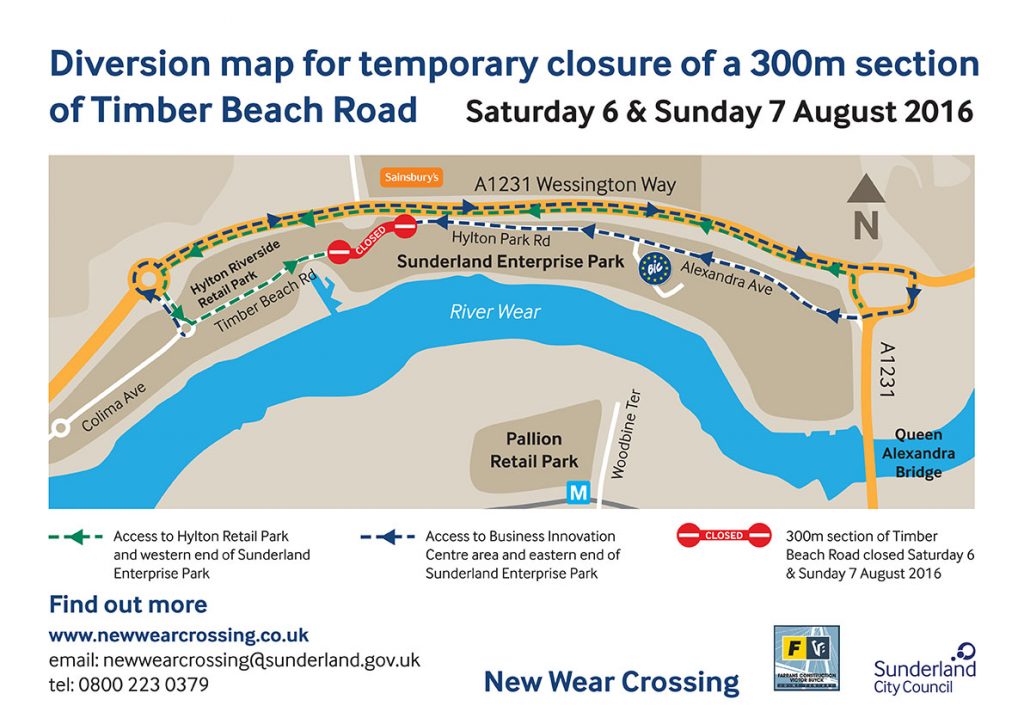 A stretch of road in Sunderland Enterprise Park is set to be closed to through traffic for two days as part of the project to build the new bridge over the River Wear.
A 300m stretch of Timber Beach Road in Sunderland Enterprise Park will be closed to all vehicles on Saturday and Sunday, 6 and 7 August.
During the closure, signed diversions will be in place taking traffic along Wessington Way to the relevant areas of Sunderland Enterprise Park.
Businesses on the enterprise park will be open as usual.
The main route through the enterprise park will then be fully open again in time for the morning rush hour on Monday 8 August.
The weekend closure will allow the construction team to complete essential drainage connections from the Wessington Way drainage network into the existing drainage system on Hylton Park Road.
Stephen McCaffrey, Project Director of FVB Joint Venture, which is building the new bridge, said the weekend closure was essential, but had been carefully planned to minimise disruption.
He said: "We're planning to do this work in an intensive period over a weekend in the middle of the summer to minimise the impact it will have on local businesses and retailers. Diversion signs will be in place to make sure people are aware of the temporary closure."
Once the bridge is complete Timber Beach Road will go under the approach road to the bridge, providing a key link to both ends of Sunderland Enterprise Park.
The new bridge will cross the River Wear between Wessington Way in Castletown and European Way in Pallion and is on track to open in the spring of 2018.
It is the first bridge to be built over the Wear in Sunderland for more than 40 years and is part of the wider strategic transport plan to link the Port of Sunderland and city centre with the A19.
Sunderland City Council Leader Cllr Paul Watson urged motorists to drive carefully, especially through roadworks.
"We're working closely with the construction team to minimise road closures, to schedule them at the best times and keep local businesses and communities informed. When you look across the site, the speed of progress on the new bridge is very visible and exciting to watch."
To sign up to receive regular updates on the New Wear Crossing, email newwearcrossing@sunderland.gov.uk asking to be put on the distribution list.
For more information, go to www.newwearcrossing.co.uk, or call 0800 223 0379.