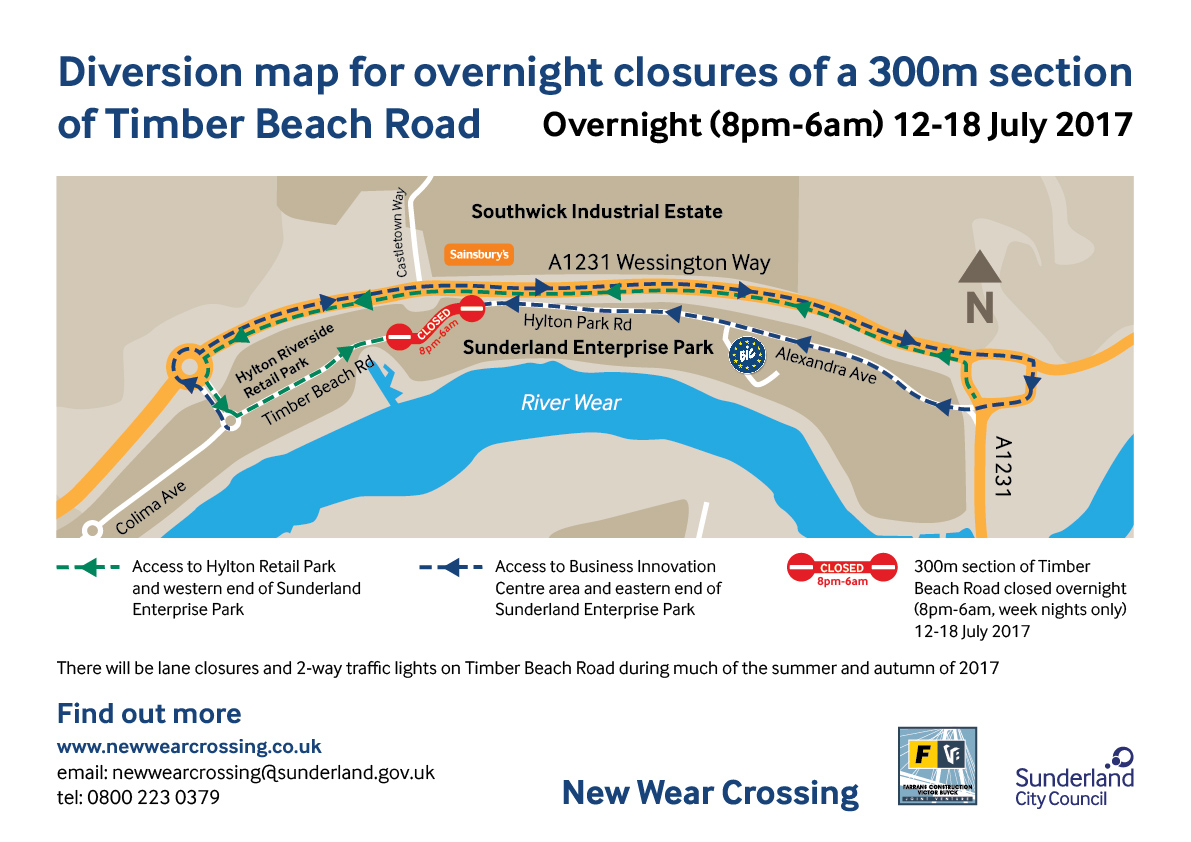 Roadworks in the Castletown area of Sunderland will enter their final phase in July as work on the New Wear Crossing progresses.
Two key routes on the north side of the river will be changed to enable the next set of works to be carried out along the road network.
A1231 Wessington Way
Works are scheduled to start on 10th July and last for approximately three weeks which means there will be no right turn either into or out of Castletown Way where it meets Wessington Way.
Signed diversions will be in place, instructing all those driving along Castletown Way – towards Wessington Way – to turn left, which will take them to the Queen Alexandra bridge gyratory from where they will be able to continue on their journeys.
Drivers who would normally turn right from Wessington Way into Castletown Way will need to carry on to the next roundabout and turn around to access Castletown Way.
This is one of the final phases of work in this area before Wessington Way will largely be restored to two lanes in each direction, which is expected to take place in September 2017.
Beyond this, there will still be construction work taking place in the area whilst the final road connection to the new bridge is completed. This means a reduced speed limit will still be in place along Wessington Way and there will also be occasional lane closures for safety reasons.
Timber Beach Road – main route through Sunderland Enterprise Park
There will be a series of night-time closures of a section of Timber Beach Road – the main route through Sunderland Enterprise Park – running for five nights from Wednesday 12th to Tuesday 18th July.
The night-time closures of Timber Beach Road have been timed to minimise the impact on businesses and other users of the route through Sunderland Enterprise Park. The closure will begin at 8pm each night and will be removed at 6am the following morning. The route will be closed between the entrance to DW Fitness and the entrance to Wessington Dental Practice.
In addition to these limited night-time closures there will also be a lane closure and temporary traffic lights on Timber Beach Road between DW Fitness and Wessington Dental Practice for much of the summer and autumn periods, beginning from 3 July.
The closures are to allow Northumbrian Water to divert a water main along the route of the new road and then to allow construction workers to complete the road along its new alignment.
It is expected that there will be additional total closures of the Timber Beach Road route during the autumn to allow the completion of the new road construction works and allow the team to tie the new road into the existing road network.
Advance warning signs and signed diversions will be in place for all road closures.
The bridge is on track to be completed by the spring of 2018. When it opens, it will link from the A1231 in Castletown across the river to Pallion Junction and onwards towards the city centre.
Work got underway on the New Wear Crossing in May 2015. Farrans Construction and Victor Buyck Steel Construction, which formed FVB Joint Venture, are delivering the bridge and road improvement scheme on behalf of Sunderland City Council.
FVB Project Director Stephen McCaffrey said: "I'm sure everyone will be pleased to hear that the end is in sight for our major contraflow system along Wessington Way. Before we get to that stage however, we do need to do some works in the centre of the carriageway which mean we will need to close off the right turn into and out of Castletown Way."
He added: "I'd just like to ask everyone to drive safely and continue to follow the speed limits and the signage to make sure that everyone stays safe and gets to where they need to go as quickly as possible."
Leader of Sunderland City Council, Cllr Paul Watson, said: "Drivers who use these routes regularly will be used to the roadworks and the road network changing as the construction programme develops. We're less than a year away now from the new bridge opening and even better news is that some of these major roadworks are coming towards an end."