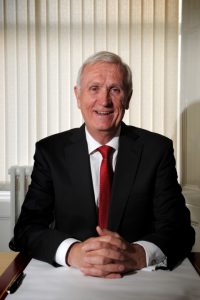 A Sunderland man who championed the cause of older people is to take up a new post as the chair of the board of Sunderland Business Improvement District.
Sixty-five-year old Alan Patchett spent more than 14 years as director of Age UK Sunderland, before retiring earlier this year.
But now Mr Patchett – who has been on the Board of the BID since its inception – has been elected as chair of the organisation which aims to promote Sunderland city centre as a place to live, work and spend leisure time.
"I am and have always been very passionate about Sunderland and am looking forward to being able to make an even bigger contribution to the BID," said Mr Patchett.
"We've had some great achievements so far but now we need to build on those with a strong board and the support of Sharon Appleby, the new head of business operations and the team.
"Our main priorities are to raise the profile of Sunderland. There are so many great changes taking place at the moment and we need to show people that the city really is a fantastic place to visit, to eat and to play."
He added, "changing perceptions is a major issue for us, especially when we have limited resources, which is why it's important for everyone to get behind the BID and work together to make a difference."
Allison Thompson, one of the board's non-executive directors, said it was a huge asset to have Alan head up the BID.
"The Board is delighted to have appointed Alan as its new chair," she said.
"He had a wealth of experience and has been on the BID board since its inception in 2014.
"We are entering a new phase in the BID's journey and preparing the ground for its second term with some new and exciting developments due to come on stream.
"Alan has lived and worked in Sunderland for more than 40 years and will be well placed to guide the BID to success as the city centre transforms in the coming years."