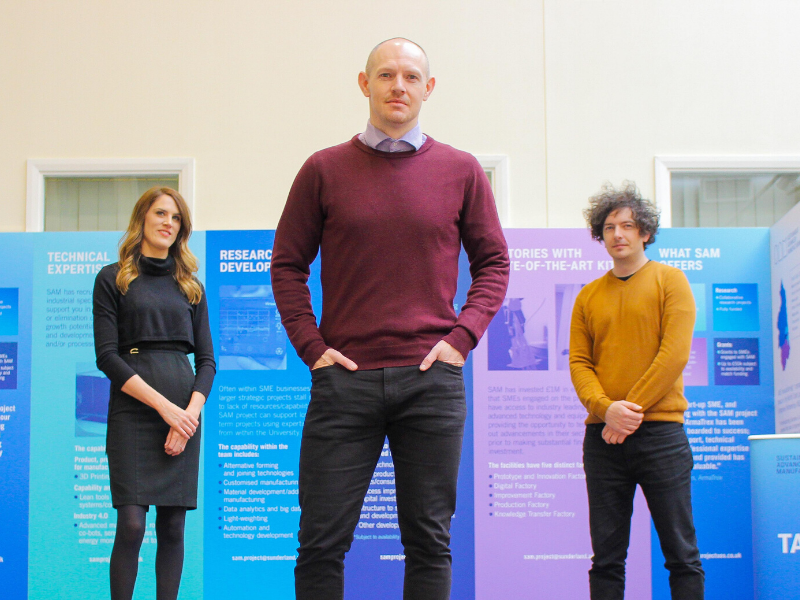 A NORTH East support organisation – set up to help manufacturers grow by embracing new technology – is set to reach out to more businesses after signing up two communications partners.
Sustainable Advanced Manufacturing (SAM), a collaboration between European Regional Development Fund (ERDF) and University of Sunderland, that was set up to support North East (LEP) SME manufacturers to explore and introduce new technology to improve their products or processes – has commissioned Second Draft and Creo Communications to help spread the word about the help it can offer.
The project offers four key support functions to businesses that are gearing up to grow, and expects that – through engaging the two Sunderland based communications partners, it can get the message to more manufacturing SMEs that help is available.
Ken Teears, project manager at SAM, said: "We provide a fantastic offer to SME manufacturing businesses in the North East, helping them harness technology to really grow their business. We have some amazing case studies of the impact we have had with companies and have invested heavily in circa £1million of state-of-the-art equipment, so sought the specialist help of a communications and videographer company to ensure we provide great exposure to these manufacturing SMEs, create innovative content about the capabilities this new technology offers, while also maximising our reach to ensure that everybody knows about the service we can offer, for free, to help companies grow and innovate.
"We are delighted to have extended the SAM team, with the addition of Second Draft and Creo, and we look forward to getting the word out further and wider about SAM, using their expertise."
Second Draft is a video production company based in the North East Business & Innovation Centre (BIC). It has worked with a range of clients, including the North East LEP, Invest North East England and Generator to develop high-quality video content, to allow them to articulate their offer.
Mark Stuart Bell, managing director of Second Draft, said: "Support like this is absolutely crucial to nurturing the region's small and medium sized manufacturers, and ensuring they have the tools and support required to help them succeed and grow.
"We're delighted to be supporting this project alongside Creo and the team at the Industry Centre, and look forward to getting out there and profiling the fantastic work of the North East's manufacturers, and the impact that SAM has had in their development."
Sunderland Software Centre based Creo Communications was commissioned by SAM to assist with social media and communications.
Managing director, Louise Bradford, said: "SAM is an incredible project that has a huge impact on the companies that engage with it, but as with anything, businesses can only know what they know, and awareness is critical.
"There are some fantastic stories of SAM's impact on the businesses it's supported, lots of fascinating events where people can learn more, and a team of experts who can perfectly balance their tech know-how with the requirements of the businesses they support, to offer deeply practical advice that aids growth. We very much look forward to driving more businesses towards SAM."
The project offers a range of support to businesses including access to: Technical Expertise, with industrial specialists using their skill and expertise to guide businesses through the process of understanding and implementing technology; R&D, with a team of researchers able to support with the development of new products and processes; factories and facilities, including access to £1m of industry-leading advanced technology and equipment; and in some cases, grants of up to £50k that allow businesses to invest in new technology.
To find out more about SAM, visit www.samprojectuos.co.uk