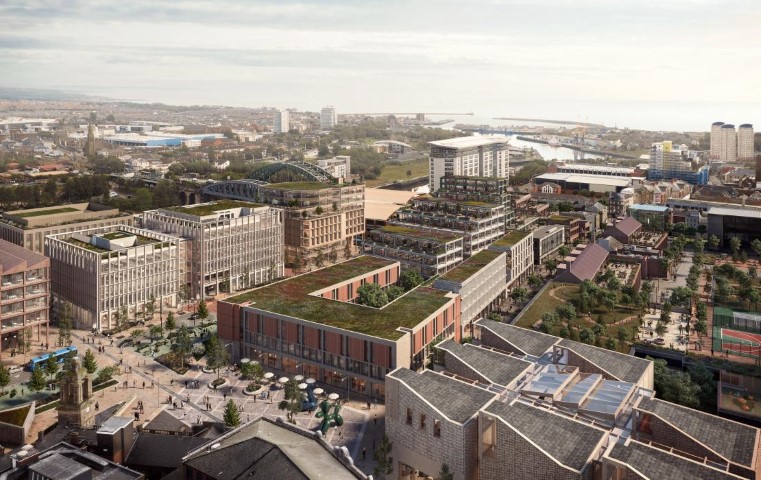 ORGANISATIONS and individuals looking to find out about the opportunities available as part of Sunderland's huge construction programme can find out more at a special event on Wednesday 6 October.
As part of the city's business festival – organised by Sunderland Business Partnership and running from 4 -8 October – the Stadium of Light is hosting a Meet the Buyers session, backed by Sunderland City Council.
And it offers an unparalleled opportunity to make contact with major companies which are involved in projects across the city and to find out about the services and skills they are looking for.
Companies including Sir Robert McAlpine, which is involved in the Farringdon Row multi storey car park scheme; Volker Stevin, who will be constructing the new pedestrian footbridge across the Wear; Tolent, the company behind the housing development that will stand on the former Vaux site which is part of the Riverside Sunderland development, as well as Igloo, Vistry Partnerships and GMI Construction, should all be in attendance on the day.
The event will begin at 1pm with a presentation by Sunderland City Council on the development programme, followed by a short talk from Sunderland College highlighting education, training and skills opportunities.
Attendees can also talk to procurement experts who can give advice on the way to approach tenders for anyone who may previously have not applied or need some support to understand the process.
From approx. 1.30pm there will then be the opportunity to visit each company's stands and find out about their projects and the jobs and contracts available.
Councillor Graeme Miller, leader of Sunderland City Council – which is sponsoring the Business Festival and has organised the Meet The Buyer event – said: "Our transformational programme of work at Riverside Sunderland and indeed across the city, is delivering millions of pounds of contract opportunities for businesses in the city, and more and better job opportunities for local people.
"We are absolutely determined that Sunderland gets as much out of this incredible transformation programme as possible, so events like this, that connect people and businesses to the main contractors that are leading the major developments in Sunderland, is vitally important.
"We're delighted to be enabling this important part of the Business Festival."
Mark Gibson – Managing Director Northern of Sir Robert McAlpine said the company was delighted to be taking part.
"As a main contractor with a long-established base in the North-East for over 70 years, at Sir Robert McAlpine we are proud to be supporting Sunderland City Council at their Meet the Buyer event," he said.
" We have a strong history of working in the Sunderland area, through long-term relationships with companies such as Nissan and Unipres and are delighted to be working with Sunderland City Council and their wider partners on the Riverside development site.
"We look forward to engaging with local businesses, in particular SMEs, as maximising local spend and generating real social value is at the heart of every project we engage in."
The Meet the Buyers event will run from 1-3pm, alongside a recruitment fair taking place that same day at the Stadium of Light from 10am until 3pm with more than 30 companies and training providers showcasing jobs, apprenticeships and upskilling opportunities.
Attendance is free but must be booked via the festival website at www.sbfestival.co.uk