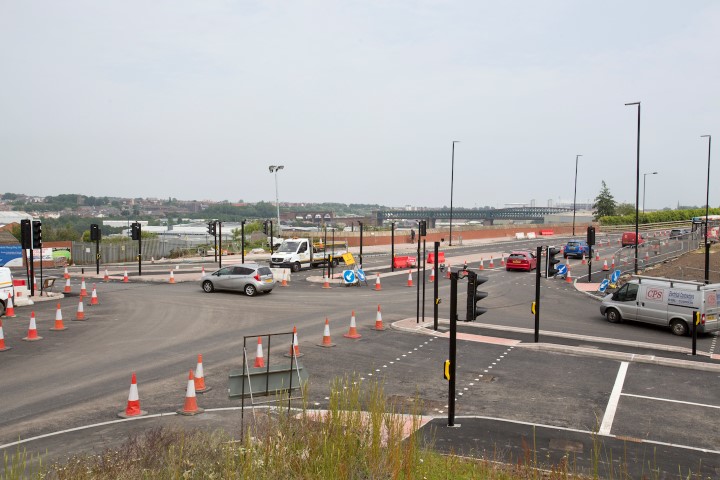 The new look Pallion Junction in Sunderland is to fully open on Monday (July 10) after the completion of major roadworks on the south side of the River Wear as part of the New Wear Crossing project.
The removal of the temporary traffic lights will make journey times quicker for people traveling around or through Pallion and make it much easier to access local shops and communities along Pallion High Street, at Pallion Retail Park, and businesses based on Woodbine Terrace.
The new junction replaces the old roundabout in the area, which has been removed in preparation for increased volumes of traffic once the new bridge opens.
Cones, barriers and the 4-way temporary traffic signals will be removed from the junction at about 9.30am on Monday (July 10), after the morning rush hour has passed, following extensive works during the past 18 months to upgrade the junction and install permanent traffic lights.
European Way, which has been closed eastbound for a year, will be opened in both directions and the diversion along St Luke's Terrace will be removed.
After the new permanent traffic lights become operational on Monday morning, the waiting times at the lights may vary during a short period of commissioning, but this is expected and drivers should not be alarmed.
Minor works, such as landscaping, will be carried out in the weeks and months ahead, which may result in some short-term lane closures in the area, but are not expected to cause major disruption.
Works are also still ongoing on Woodbine Terrace, with resurfacing work still to be completed, but these will not impact on the operation of Pallion Junction.
"This is great news that I'm sure will be welcomed by everyone, especially the residents, businesses and motorists who live, work and drive in Pallion every day," said Cllr Paul Watson, Leader of Sunderland City Council.
"We know the roadworks have caused quite a bit of disruption during the past year, so very much appreciate the patience and understanding shown by everyone as these complex and time-consuming works have been carried out.
"It hasn't been easy for people, so it's good to see the major works are complete.
"The New Wear Crossing project is making excellent progress and is on track to open to the public in the spring of next year. We can all then start to reap the many benefits that it will bring to the city."
Work got underway on the New Wear Crossing in May 2015. Farrans Construction and Victor Buyck Steel Construction, which formed FVB Joint Venture, are delivering the cable-stayed bridge and road improvement scheme on behalf of Sunderland City Council.
Earlier this year, the impressive 100m pylon was delivered to site and then raised into position during a challenging two-day operation, and in March the final section of bridge deck was successfully launched across the river.
In the coming months, the 28 cable stays will be installed to securely hold the bridge deck in place before the temporary steel supports are removed over winter and other finishes are completed, such as the road markings and lighting, to finish the project.
It will bring to an end the biggest construction project in the North East, which is expected to have taken just less than one million man-hours and about 2,000 people to complete.
Stephen McCaffrey, Project Director for FVB, said: "The New Wear Crossing has involved a great deal of work in and around the River Wear, as well as major improvement works to the existing road network on both the north and south sides.
"Whilst we appreciate they can cause delays and frustrations, they have been a big part of the scheme to ensure that the bridge ties in effectively with existing roads in both Pallion and Castletown.
"Some of those works have taken us longer to complete than anticipated, due to things that could not have been foreseen, such as the discovery of unchartered utilities in and around Pallion, which needed to be made safe or removed before we could progress.
"However, the major works at Pallion Junction are now complete, and we expect those in Castletown to be complete during the autumn.
"We thank people for their patience and urge drivers to continue to drive with care and according to the speed limits where works are ongoing."
*Roadworks due to be carried out in Castletown, which will result in no right turn for three weeks either into or out of Castletown Way where it meets Wessington Way, have been put back. They were due to start on July 10, but are now expected to get underway on July 18.
Signed diversions will be in place, instructing all those driving along Castletown Way – towards Wessington Way – to turn left, which will take them to the Queen Alexandra bridge gyratory from where they will be able to continue their journeys.
Drivers who would normally turn right from Wessington Way into Castletown Way will need to carry on to the next roundabout and turn around to access Castletown Way.
This is one of the final phases of work in this area before Wessington Way will largely be restored to two lanes in each direction, which is expected to take place in September 2017.
The new bridge and road improvement programme is phase two of the Sunderland Strategic Transport Corridor, which is a five-phase plan to improve links between the A19 manufacturing corridor and Sunderland City Centre and the Port of Sunderland.
It will help reduce congestion around the city, speed up journey time for motorists and will enable a huge area of land along the south side of the River Wear to be regenerated and developed. It will also help attract investment into the city, create jobs and breathe new life into the old industrial area of the riverbank that has become derelict over time.