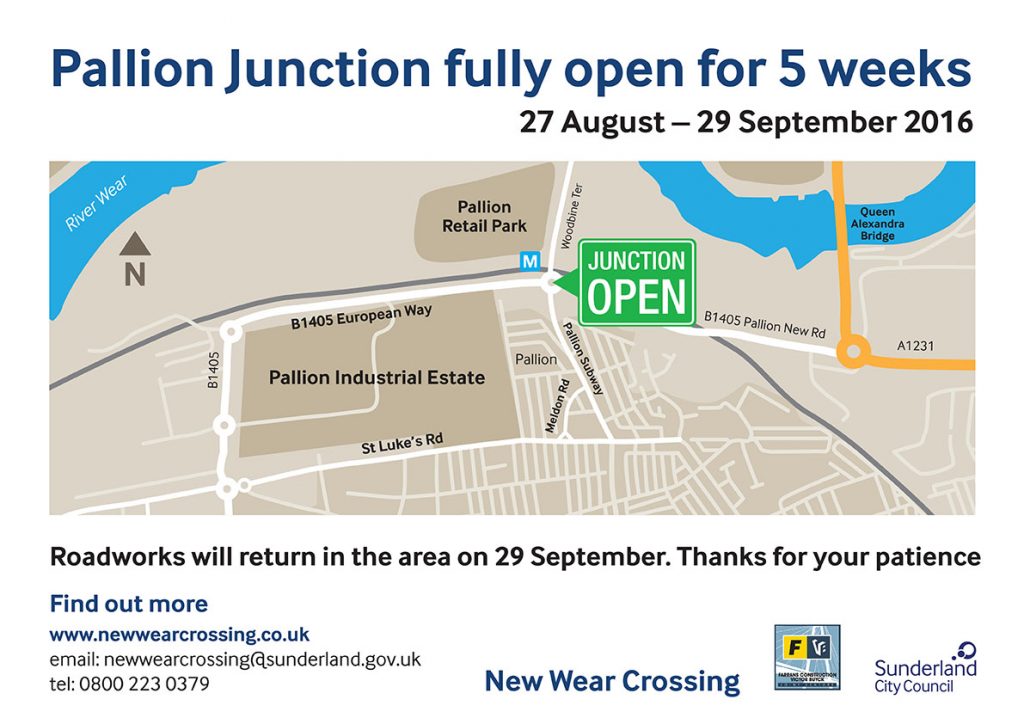 Roadworks in Pallion associated with Sunderland's new bridge will be temporarily removed for five weeks from the weekend of August 27.
European Way will be open to traffic in both directions and all roadworks in the Pallion Junction area removed from the early hours of Saturday, August 27 until the end of September.
The diversion around St Luke's Way will be removed and a temporary roundabout reinstated at the junction of Pallion New Road, European Way, Pallion Subway and Woodbine Terrace.
However, from September 29 traffic management will be re-installed and one lane of Pallion Subway will be closed until the end of the year to enable utility diversions to continue.
Throughout all of the works, local shops and businesses, including those at Pallion Retail Park, Pallion High Street, Pallion Quay and Pallion Industrial Estate, as well as Pallion Metro Station, will remain open as normal at all times.
Major works in the Pallion Junction area are expected to be completed by the end of the year, with minor works continuing into 2017.
On completion, there will be a four-way junction with traffic lights, which will allow traffic to connect to the new bridge when it opens in the spring of 2018.
The new bridge will cross the River Wear between Wessington Way in Castletown and European Way in Pallion.
It is the first bridge to be built over the River Wear in Sunderland for more than 40 years and is part of the wider strategic transport plan to link the Port of Sunderland and city centre with the A19.
Councillor Paul Watson, Leader of Sunderland City Council, said: "The project team for Sunderland's new bridge is making good progress with regards to both the new crossing and the associated roadworks on both sides of the river.
"I'm sure local people will be pleased to know that Pallion Junction is going to be free of roadworks for the next few weeks. Work is not yet finished in the area, so further traffic management will be in place from the end of September onwards, but the end result will be worth it."
Stephen McCaffrey, Project Director for FVB joint venture, which has been appointed by Sunderland City Council to deliver the project, urged motorists to drive carefully through the roadworks and according to reduced speed limits.
He said: "We are ahead of schedule with the works in Pallion, which is enabling us to remove all traffic management for a few weeks and return the junction to a roundabout. This is only temporary as we have more work to complete, but we are making good progress and are on track to finish on time."