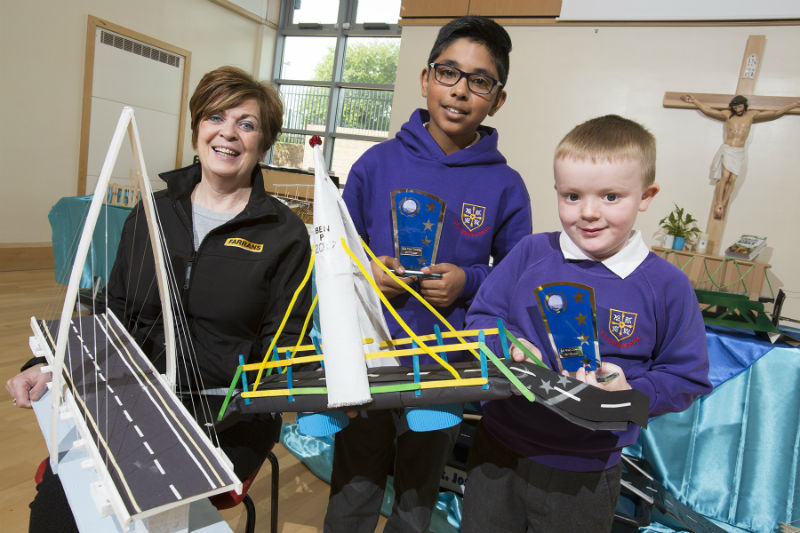 Pupils put their creative skills to the test when they designed and built their own bridges to celebrate the construction of Sunderland's New Wear Crossing.
The schoolchildren at St Joseph's Primary School in Millfield built an impressive 47 bridges, of all shapes and sizes, to coincide with their Science and Engineering Week.
The bridges were produced by the youngsters at home and then taken into school and proudly displayed in the hall for judging.
Brigid McGuigan, Community Engagement Manager for Farrans Victor Buyck Joint Venture, which is building the New Wear Crossing on behalf of Sunderland City Council, then had the difficult job of selecting the winners.
The winners were Ben Peggie, from Key Stage 1, and Joel Cijo, from Key Stage 2. The winning bridges were selected based on design, structure and the pupils' ability to explain the process of construction.
Brigid said: "It was a real treat to be invited to judge the bridge competition, but I had no idea how difficult it was actually going to be.
"The children had obviously worked very hard, and some of their ideas were amazing. I was quite blown away by their skill and enthusiasm. They were all winners really, but Ben and Joel just had the edge with their wonderful creations."
The bridge building competition was the central element to the school's Science and Engineering Week, which was organised by Science Coordinator Lucy Forbister.
She said: "The week was a huge success due to the hard work of children, parents and teachers and has formed the foundation for similar weeks to be held in future years. It is definitely something we plan to do again.
"We have all been hugely interested in the construction of the new bridge – which is happening just a mile or so away from our school – and some pupils have been studying the construction of the Wearmouth Bridge from 1927. Pupils and parents jumped at the chance to design and develop their own bridges."
Throughout the school's Science and Engineering Week, pupils worked with local engineers, a variety of companies, and Sunderland Yacht Club to expand their knowledge about the sector.
All of the children were presented with souvenirs from Farrans Construction, and the two winning pupils also received trophies which bore a representation of the new bridge.
Sunderland City Council Leader Cllr Paul Watson said: "It's wonderful to see the young people of Sunderland and their families showing such interest and enthusiasm for the new bridge across the River Wear. They obviously appreciate just how important this crossing will be for boosting the economy and regenerating the city.
"I think we have some budding engineers and designers at St Joseph's. I'm very impressed by their skill and imagination."