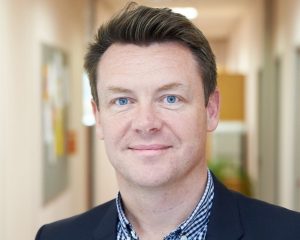 Jamie Ollivere has been named as the new managing director of innovation and technology transfer company, RTC North.
Launched in 1989 in Sunderland, RTC was one of the 12 Regional Technology Centres established around the country to help local manufacturers develop new products and services by accessing expertise within regional universities.
Today, the company employs over 80 people at offices in the North East, North West and Yorkshire and delivers a mix of innovation and business growth programmes designed to help companies innovate, compete and grow.
Jamie joined the company in 2002 as a press officer, later becoming marketing manager. He went on to have responsibility for a succession of large publicly financed business support contracts designed to work with small and medium sized businesses.
He has more recently led on expanding the company's consultancy and training portfolio and today, the company delivers business improvement projects for clients across the UK.
Jamie said:
"UK businesses are facing many challenges, whether relating to productivity, growth, accessing new markets or just keeping pace with technological and political change.
"For over 30 years, RTC has had a role in helping businesses become more resilient by managing change, fostering innovation and connecting clients to opportunities around the world.
"I am delighted to have the opportunity to work with colleagues and our strategic partners at a regional, national and international level to deliver high impact business support programmes."
RTC is also a lead UK partner in the worlds' largest business support network – Enterprise Europe Network – and has also established relationships with partners in Asia, as well as North and South America.
The company also works at a regional level with Local Enterprise Partnerships and at a national level, delivering projects on behalf of Innovate UK.
RTC North Chairman and Corporate Finance partner at Tait Walker, Michael Smith, added:
"I would like to congratulate Jamie personally, but also extend my gratitude to the Executive Directors as a group who have all demonstrated exceptional commitment and leadership to the business during a period of growth.
"RTC is a well-respected mission led business to which I am proud to be associated. The incredible work it does with schools and young people is a great example of how this organisation doesn't just deliver important services to business but also has a wider social impact too. It is for both of these reasons that RTC has – in my opinion – become so successful."