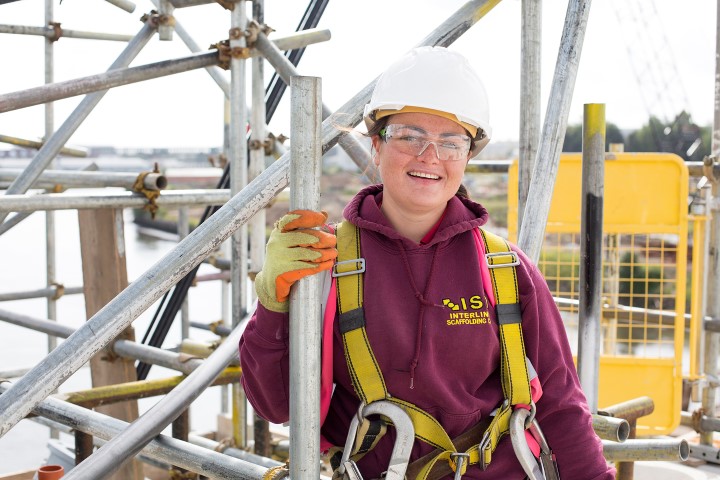 Scaffolder Claudia Ferguson may be working on the towering pylon of the New Wear Crossing but she has her ambitions firmly set on climbing the career ladder.
The 23-year-old from Sunderland is one of only a handful of female scaffolders in the country and one of only two in the North East, and is proof that women are just as able as men when it comes to working in the world of construction.
Claudia was working at The Dolphin pub in Farringdon in the city whilst studying photography as part of an Art and Design degree, when she got chatting to the team at Interlink Scaffolding Ltd (ISL).
A number of the ISL staff drank in the pub, including Managing Director Darren Maratty, so Claudia got to know them and took an interest in where they were working and what their jobs involved.
"I had never even thought about scaffolding as a career until then," said Claudia.
"I'm quite a girly girl and was focused on becoming a photographer, but I really enjoyed hearing about what they were doing and thought it sounded interesting.
"I asked how I could get into it, and they took me on. They told me that hardly any girls worked as scaffolders but that there was no reason why I couldn't be a success. I have never looked back since."
She added: "In the beginning, I think some of the team thought I would only last two weeks, but I was determined to prove that I could do it.
"Two years on, I'm fully qualified and am still loving it. I'm constantly covered in bruises and I'm always dressed in my scruffs for work, but I couldn't think of anything else I would rather be doing."
Claudia still has an interest in photography, but it's as a hobby now, and she still gets to be her girly self outside of work.
"I have always loved glitter, unicorns and the colour pink – I collect all of the Disney dolls – but I have learned that I can be a scaffolder and still be the girly girl that I am out of work," she added.
Darren Maratty, Managing Director of ISL, said: "Claudia asked me if there were any jobs available within our company and at first I thought she meant in our office. When she said 'no, as a scaffolder', I had a think about it, but then thought 'why not'? We took her on as an apprentice scaffolder.
"I think it was a bit daunting for Claudia at first, especially being the only female, but to her credit she has come through and is a big part of our team. When she first had to climb up the pylon on the New Wear Crossing, like anyone, I think she had a fear of the height, but she overcame that very quickly and is a great asset to ISL. We are all proud of her."
Claudia has worked on a number of residential and commercial projects for ISL, as well as the Beacon Of Light, but nothing as big as the New Wear Crossing.
She has been on site for much of this year, fixing the scaffolding to the 105m tall pylon and then assisting the cable installation team as they require scaffolding to be altered.
Darren said all of the scaffolders working on the New Wear Crossing are from the Sunderland area and all feel privileged to be involved.
Claudia added: "I love working on the New Wear Crossing. It's been great to be part of a huge team of people working on such a big and impressive bridge project. I live in Sunderland, so feel proud to be part of it. I will always remember being involved in its construction. It's had a huge impact on me."
Leader of Sunderland City Council, Cllr Paul Watson, wished Claudia well.
He said: "It's fantastic that Claudia is making such a great success of her career as a scaffolder and has had the wonderful opportunity to work on the New Wear Crossing.
"There are so many excellent career opportunities out there for young people in the construction and civil engineering sectors, and Claudia is proof that both men and women are just as able."
The New Wear Crossing is Phase Two of the Sunderland Strategic Transport Corridor, which aims to improve links between the A19 and Sunderland City Centre and the Port of Sunderland. It is on track to be complete in the spring of next year.