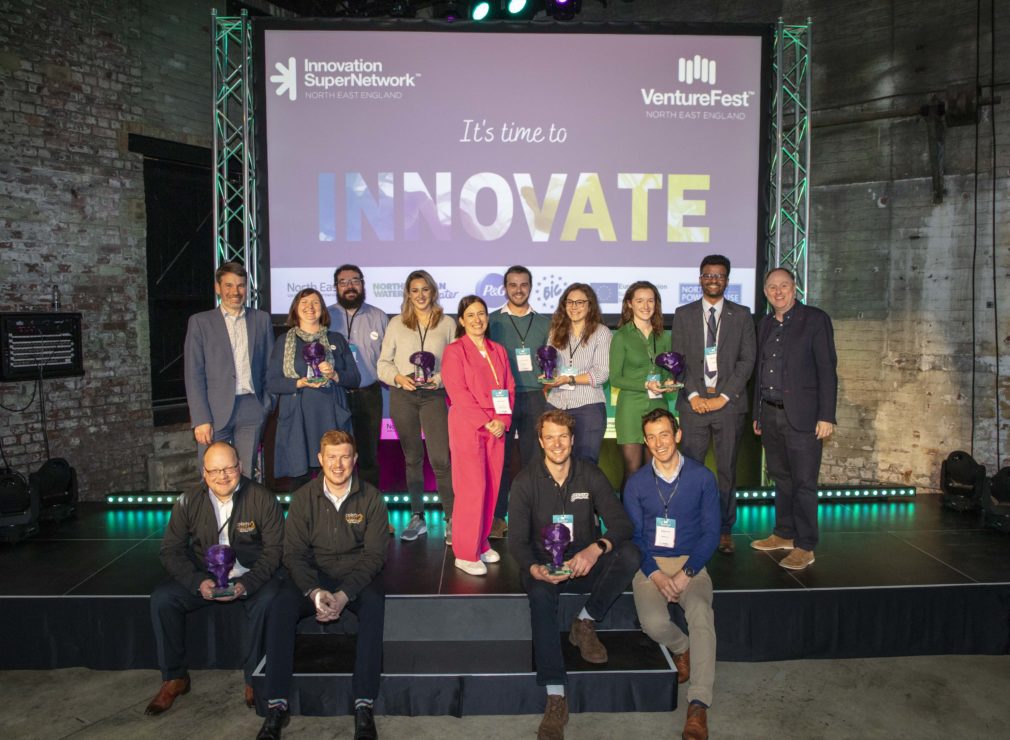 The North East Innovation Awards has opened applications with an expanded number of categories.
Taking place as part of VentureFest North East on the 10th May 2023, the Awards celebrate the outstanding innovations and transformative business practice taking place across the region.
Graeme Miller, Head of Innovation at Innovation SuperNetwork who deliver VentureFest North East, said: "VentureFest has spent the last decade providing a platform for businesses at the cutting edge of innovation. The Awards are an important part of this celebration and give the region's businesses the opportunity to showcase their work to peers, highlight their success and fly the flag for the transformative work coming out of the North East!"
In 2023, the North East Innovation Awards are supported by Catax (a Ryan company), innovation funding specialists. Dawn Coker, Group Strategic Partnerships Director, said: "We have partnered with VentureFest, across the UK, for over five years now, and are so pleased to be helping businesses in the North East to access innovation funding and tax relief to support their industry advancements.
"The diversity of innovation across the region is extraordinary and we are proud to have many clients in the North East that have been able to move forward with their innovative ideas using grant funding and tax relief. We are excited to be the headline partner of the North East Innovation Awards, playing a part in celebrating the region's innovators."
Applications for the North East Innovation Awards will close on Wednesday 5th April. There are 9 categories open for applications:
Advanced Manufacturing Innovation of the Year (Supported by Sunderland City Council)
This award celebrates those regional companies who are saving costs, quickening turnaround or using innovative manufacturing techniques to become more competitive.
Digital Innovation of the Year (Supported by Infotel UK Consulting)
This award shines a light on those regional businesses who are truly disrupting business or society with innovative creative or digital solutions.
Energy Innovation of the Year (Supported by Northern Gas Networks)
This Award focuses on innovation in the energy sector. We are looking for businesses that have used innovation to improve energy efficiency or are bettering our ability to build sustainable energy sources.
Health & Life Sciences Innovation of the Year (Supported by CPI)
Healthcare innovation is critical to ensuring we're living our happiest, healthiest lives for longer. Here we are looking for the innovative products, services and technologies that are transforming lives one innovation at a time.
Inclusive Innovation Award (Supported by British Business Bank)
This award is for a business or individual who is breaking down inclusion barriers to innovate. This business or individual will have demonstrated continued commitment to diversity, and their innovation with have had a profound impact on society or their industry sector.
Innovation Champion (Supported by North East LEP)
This person goes beyond their usual role to help support or drive innovation in the region.
Social Innovation of the Year (Supported by Believe Housing)
This award celebrates innovators that are enriching society and transforming lives through social innovation.
Sustainable Innovation of the Year (Supported by Northumbrian Water)
Green Innovation has never been more important. This award celebrates businesses that are positively impacting the environment and sustainability by changing their processes and working towards net zero goals.
University Spinout of the Year (Supported by Northern Accelerator)
The region is home to five world leading universities, all of which have entrepreneurship and innovation programmes that help to spin out innovative new businesses.
VentureFest North East will return 10-11 May 2023, where it will celebrate its 10th anniversary with an expanded two-day programme.
The conference has spent the last decade celebrating and inspiring innovation across the region. In 2023 the conference theme is 'Our Future, Now' with the event bringing together speakers with a global perspective on the challenges impacting society.
Tickets for day one of VentureFest (10th May) at Boiler Shop Newcastle, are FREE and available to book now: https://supernetwork.org.uk/venturefest/ . Programme details and how to book sessions taking place on day two (11th May) will be announced in the coming weeks.
VentureFest North East is delivered as part of the Catalysing Innovation in North East Clusters Project 2021-2023, delivered by the Innovation SuperNetwork and is part-funded by the European Regional Development Fund (ERDF).