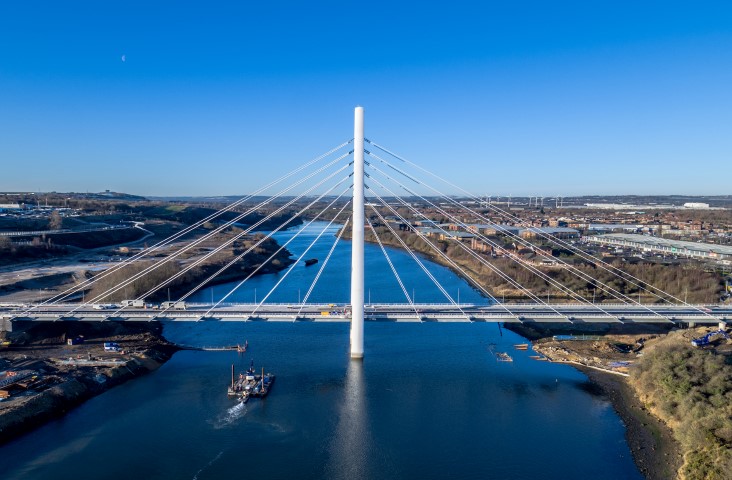 A section of Timber Beach Road in Sunderland is set to be closed to vehicles during the weekend of March 24 and 25 for final surfacing works to be carried out.
The closure of the 350metre section of road, between DW Fitness and Wessington Dental, is essential to complete the new route for Timber Beach Road, which goes under Sunderland's Northern Spire bridge.
Pedestrian and cyclist access will be maintained at all times, though cyclists will have to dismount as they travel through the roadworks area.
Provided poor weather conditions do not hamper progress, the section of road will close at 7am on Saturday, March 24, and be open again in time for peak time traffic early on the morning of Monday, March 26.
The closure will allow for the final road surfacing, white-lining and pavements to be completed.
During the closure, traffic will be diverted via the A1231 Wessington Way. The diversion route will be signposted.
Special plans are being put in place to maintain bus access through the enterprise park. During the closure, bus services 8 and 36 will serve Colima Avenue, then divert via the A1231 to the Queen Alexandra Bridge gyratory and onwards along their normal routes.
After the section of road re-opens on the Monday morning, temporary traffic lights will be in operation on the route for a further two weeks while additional finishing work is carried out.
If poor weather prevents the closure from taking place, the work will be rescheduled for April.
Leader of Sunderland City Council, Cllr Harry Trueman, said: "I would like to thank the businesses and their employees and customers on the enterprise park who have shown great patience and understanding during a variety of essential roadworks on the north side of the river during the construction of Northern Spire.
"I appreciate this weekend's closure will bring inconvenience to some, but it is one of the final series of works that is required to complete the new road, which runs under the new bridge.
"We are very close to seeing the impressive Northern Spire open to traffic, which I know we are all looking forward to. We are on track to see it open later in the spring."
Northern Spire is the first bridge to be built across the River Wear in the city for 40 years. It is Phase 2 of the Sunderland Strategic Transport Corridor, which is a five-phase road enhancement scheme to improve links between the A19 and Sunderland City Centre and the Port of Sunderland.
Phase 1, the city centre St Mary's scheme, is already complete, and Phase 3, joining the bridge to the city centre, has received planning permission and will get underway early next year.
The Northern Spire will link Castletown with Pallion and will enable land along the south side of the river to be regenerated. It will also attract investment into Sunderland, help to create jobs, and reduce journey time for motorists travelling around the city.