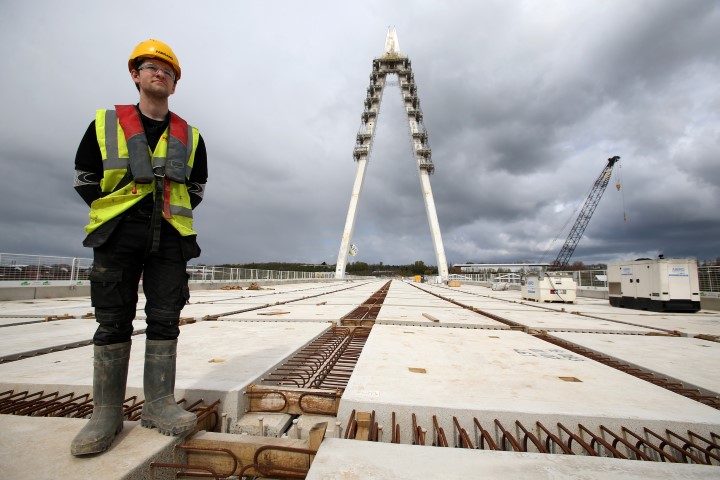 Student Chris Glover has the world at his feet after a short work placement on the site of the New Wear Crossing led to a permanent part-time job.
Chris, 19, who is completing his final year of a Level 3 Extended Diploma in Engineering at Sunderland College, has gained valuable experience working on the site of the new bridge – the biggest construction project underway in the North East.
In the spring of last year, he was one of a number of students invited to take part in a work experience programme on the site in Sunderland.
However, Chris impressed the team so much, he was invited back to site one day a week to gain a greater insight into the project, whilst still completing his college course.
Such was his enthusiasm, commitment and natural ability, he was then offered a part-time, paid job on the site during his final year of the two-year diploma.
"When I came here initially for three days on a work experience placement, I had no idea the New Wear Crossing project would become such an important part of my life," said Chris, from Sunderland.
"At first I was coming to site one day a week to gain more experience, but then when the college holidays came around, I was offered a paid junior engineering role. That was a dream for me.
"It has been the most amazing experience. I never thought I would have this kind of experience on my CV while still studying at college. It has been a golden opportunity. My skills and knowledge have expanded massively, and my confidence has grown.
"I have been able to put experience to things I have learned in college, and have learned so much about teamwork and the different skills that are needed on a project of this size. It has been invaluable."
Chris is preparing to go to Newcastle University to study a Degree in Civil Engineering.
He added: "I will be starting university in the autumn, but I hope to still come and work on the New Wear Crossing. I would like to see it through to completion.
"Projects of this nature don't come along very often, so it's been a once in a lifetime experience for me."
Work got underway on the New Wear Crossing in May 2015. Farrans Construction and Victor Buyck Steel Construction, which formed FVB Joint Venture, are delivering the bridge and road improvement scheme on behalf of Sunderland City Council.
FVB Project Director Stephen McCaffrey said: "From the first day Chris came to site, he impressed us with his mature attitude, interest in the project and his eagerness to learn. He has the attributes that we look for in people, so we were very keen to have him working with us.
"It's a pleasure to have him on the team. He has been able to gain experience and earn a wage whilst studying at college, whilst we have benefitted from his enthusiasm and natural ability. It has been a win-win situation. Chris will go far, there is no doubt about that."
Leader of Sunderland City Council, Cllr Paul Watson, congratulated Chris for landing the part-time role.
He said: "Well done to Chris for carving out such a wonderful opportunity for himself on the North East's biggest construction project.
"His own hard work, determination and attitude to work has been recognised and has led to this, quite extraordinary, opportunity.
"He is right, chances like this don't come along very often. I'm sure he will remember his time working on the New Wear Crossing for the rest of his life. I wish him well in what I'm sure will be a very successful engineering career."
The College's Chris Brown, Curriculum Leader Advanced Manufacturing and Engineering, said: "Sunderland College is committed to supporting its students to gain the skills and experience that will secure them employment when they complete their studies, and we know we produce some of the most work-ready, committed and talented young people to enter industry as a result.
"Chris is such a promising young engineer, and I am absolutely confident that his natural ability, teamed with his studies with us and the real-life work experience he has gained on what is a truly colossal engineering project, there can be little doubt that he is on the pathway to a hugely rewarding career."
The bridge is on track to be completed by the spring of 2018.