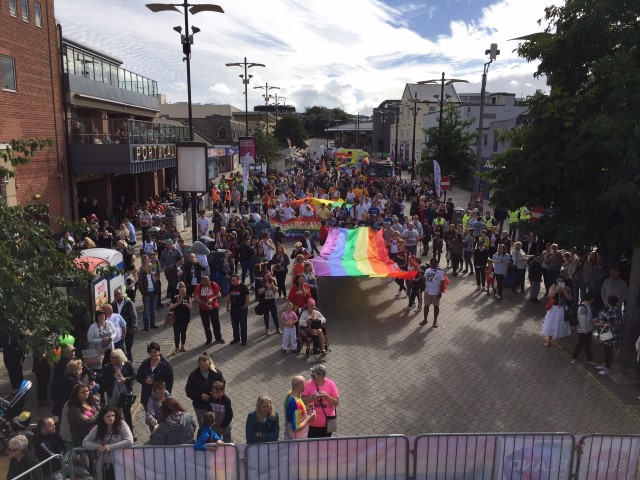 Sunderland's celebration of its LGBT+ community has been saved, after city organisations offered their financial support.
The city's seventh Pride looked in danger of being cancelled because of a lack of funding, but the event will now go ahead after a number of companies helped to rescue the day.
Sunderland Business Improvement District has agreed to sponsor the main stage for the fourth year and has been joined by a range of local bars, pubs and restaurants including Gatsby, Hidden, Port of Call and Papas Tapas.
At the same time Barclays, Sunderland City Council and Northumbria Police has also thrown their weight behind the event, with Station Taxis coming on board as wristband sponsor.
Chris Ramsay, chair of Sunderland Pride expressed his gratitude to the local supporters.
"We've had a few hiccups this year due to funding which led us to initially cancelling the event however we are delighted that so many businesses have offered their support to make Pride happen," he said.
"I have been involved with Pride from day one and have seen it go from strength to strength but fully understand that some organisations have had to pull out from sponsorship or reduce the amount because of their own lack of funds.
"Thankfully however we have got over this and we look forward to another amazing year."
Pride is planned for 24 September from noon until 6pm and will be held at Park Lane.
Gemma Dishman, communications and marketing manager for Sunderland BID, said the organisation was pleased to be on-board for the fourth year.
"It's very important for Sunderland city centre to be seen as a place where diversity is celebrated and where everyone is welcome and this is exactly the message that Pride portrays," she said.
"We are delighted that with support from organisations like the BID, Sunderland Pride will be going ahead this year."
Natalie Bland, Marketing Manager at Station Taxis said the company was "proud to be sponsoring Pride and to have our rainbow coloured taxi in service across Sunderland, celebrating how diverse and vibrant our city is."
She added: "Our taxis are very recognisable, so the eye-catching colours are a great way to deliver an important message – in what is considered as a very traditional, predominantly male-dominated profession.
"We want our staff, drivers, customers and the people of Sunderland to feel free to express who they are at all times. The pride taxi has already proved to be a big hit with customers and others who have seen it on the streets of the city."
In the run up to the event a number of fundraising events are planned including a family friendly evening at The Victory Club, North Bridge Street on 28 July with a variety of entertainment. Tickets are £1 for children and £3 for adults.
Eazy Street, Sunderland is also planning a day of entertainment from 1pm on Sunday 27 August.
"It's great that we will now be able to hoist the rainbow flag and celebrate our diversity," said Chris.