An award winning events business commissioned to provide the musical entertainment at this month's Sunderland International Airshow has opened its new headquarters at the North East Business and Innovation Centre (BIC).
Sunderland based i-Stage Group was set up four years ago to offer event services and entertainment to a worldwide client base. They offer an extensive range of acts, singers, bands and performers to suit all requirements and budgets from a one-off event to a complete seasonal programme.
The company offers a complete solution to event planning, from concept to completion, supplying everything from tribute acts and music production to audio visual solutions and representing and managing local artists.
i-Stage Group moved to the BIC's high-tech Jupiter Centre in May taking the business to the next level and making a firm presence in their home City. Director Paul Waite explains:
"We felt the need for a professional base which could incorporate all elements of the business.
"The BIC was recommended to us and after taking a look we just knew that being based in close proximity to other fresh and forward thinking businesses would be perfect for us.
"Not only are the secure office space and communal meeting areas ideal, we also have a break out room used for music production and editing. Moving to a centre that not only provides great business space but offers additional support has been a lifeline for us. The centre manager has been excellent and we know if there is anything we need we can just get in touch.
"There is also a great sense of community here and we wanted to be a part of that."
i-Stage work with an extensive range of acts including tribute bands Re-Take That and the Spice Girls, as well as local singer-songwriter Geoff Mull, aiming to entertain various audiences as well as providing talented acts the opportunity to perform. Paul adds: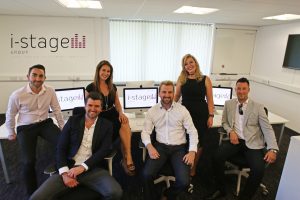 "Sunderland has so much to offer and we love the area which is why it is important to be based here. We offer our services on a global platform but our heart will always be in Sunderland.
"We're delighted to be working with Sunderland City Council and to be involved in one of their largest events of the year and to also help them celebrate 25 years since they were granted City status. We pride ourselves in delivering high quality entertainment and we will do just that at the Airshow on 21st July."
Centre manager at the BIC Donna Surtees adds:
"It's been an exciting start to the summer with businesses expanding here at the BIC and I am pleased to welcome Paul and the team.
"With over 140 businesses based at the BIC, i-Stage are unique in the service they provide and I look forward to working with them and hearing of their future projects."
For more information about i-Stage Group click here