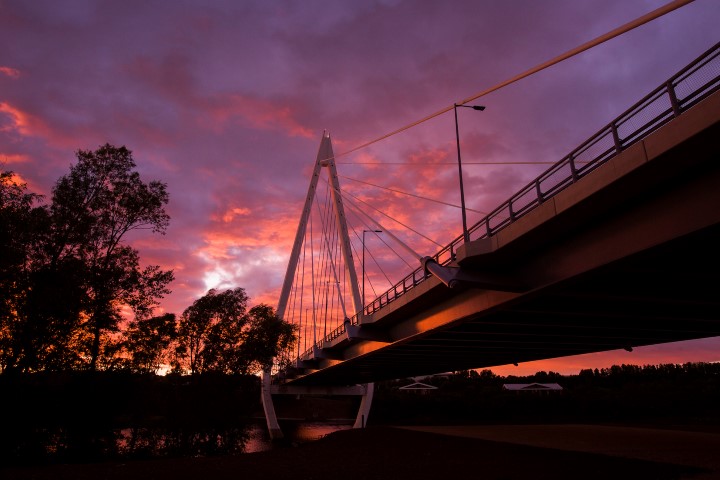 Northern Spire – Sunderland's new bridge across the River Wear – is expected to open in August.
Finishing works on the cable-stayed bridge, which boasts an impressive 105m central A-framed pylon, are expected to take a few more weeks, with the bridge due to open to traffic by the end of August.
It was hoped the bridge would be open in late spring this year, but the harsh weather that dominated the first four months of the year meant that work did not progress as quickly as hoped.
However, during the past few weeks the team has worked hard to maximise the recent spell of good weather and is now finishing final paintworks on the pylon and carrying out final inspections.
Leader of Sunderland City Council Cllr Graeme Miller said: "We appreciate that people are very eager to see Northern Spire complete and are curious as to when it will open to the public. We, too, are excited to see it in use.
"The only substantive works remaining are painting and inspecting, so we are counting down to opening day.
"Of course, painting at height using high-level platforms dictates the speed at which the painting can happen and this is still sensitive to weather conditions, but we hope the good weather continues so that we can get these final works and the appropriate final inspections completed.
"While we all want to see Northern Spire in use as soon as possible, it's important that we don't compromise the finish by rushing to open. This project is far too important for that."
Northern Spire is the first bridge to be built over the River Wear in the city in more than 40 years. It will link Castletown to the north of the river with Pallion in the south and is part of a wider plan to improve the road network between the A19 and the Port of Sunderland and Sunderland City Centre.
The new bridge will reduce congestion and journey times around the city, attract investment and enable swathes of land along the river to be regenerated.
Sunderland City Council believes it will be the catalyst for change, leading to job creation, an economic boost to local businesses and a rise in local pride and confidence.
Mark Jackson, Head of Infrastructure and Transport at Sunderland City Council, said: "We understand that people want to see Northern Spire open – and so do we – but we always said it would be a three-year project and it has been.
"Unfortunately, the weather was a big issue for us earlier this year and FVB, the main contractor, hasn't been able to complete the painting in the time that we had all planned for. As a team, we have ensured throughout that the quality and finish of the bridge have remained at the heart of everything we have done, and that remains our main focus. Whilst we all want to see Northern Spire in use, we won't let those standards slip in order to get it open before we think it's ready.
"Whilst there are some minor works required before the bridge can open, such as cleaning the deck and commissioning the traffic lights, which will only take a few days, we are now purely painting and inspecting the pylon. The pylon is obviously a big structure, so it's taking quite a bit of time, but we would rather give it the time it needs, while it's fully closed."
Mark said he believed Northern Spire would have a big impact on Sunderland. He added: "We will keep people informed and as soon as we can confirm an actual opening date, we will share it at the earliest opportunity. The bridge opening may be behind where we wanted it to be, but our long-term plan for Sunderland is still very much on schedule."
Northern Spire has been designed and built to last at least 120 years. More than 2,000 people have worked on the project over the past three years – completing a million man-hours of work on site.
Costing £117.6m, funding has been jointly provided by the Government, which contributed £82.5m, and Sunderland City Council, which contributed £35.1m. The project is predicted to come in under budget.
Stephen McCaffrey, Project Director for Farrans Construction and Victor Buck Steel Construction, which formed FVB Joint Venture to deliver the project on behalf of Sunderland City Council, said: "We feel enormously privileged to have been able to work on Northern Spire, so are immensely proud that we are entering the final stages of work.
"With a project of this size and nature, there were always going to be challenges, and we knew the weather was something we could do little about. The wind, rain and very cold temperatures were an issue for us earlier this year, but we are happy to be completing the finishing works on the deck and pylon.
"There will still be some minor works to complete once the bridge is open, but that is usual for large construction schemes like this. It's been a project that I think all of us will remember for the rest of our careers."
Northern Spire is Phase 2 of the Sunderland Strategic Transport Corridor, which aims to improve links between the A19 and Sunderland City Centre and the Port of Sunderland. Phase 3 of the scheme has been granted planning permission and will run from where the Northern Spire phase ends onto the city centre, where Phase 1 along St Mary's has already been completed.
The new dual carriageway delivered within Phase 3 will go under the Queen Alexandra Bridge, through Deptford, and will link into St Mary's Boulevard, next to the Vaux site, opening up more development sites and opportunities along the river. Work on the new road will begin next year and is expected to be finished and open to traffic in 2021.
The Story so Far video, which summarises the three-year construction project, can be viewed and downloaded here.