Sunderland's impressive new Northern Spire bridge has beaten off stiff competition to win a coveted national construction and engineering award.
The city's new bridge, which opened in August this year, was named Project of the Year: Engineering, Construction and Infrastructure 2018, at the Association for Project Management (APM) awards in London on Monday.
Northern Spire was up against a number of outstanding engineering and infrastructure projects from across the UK, including the Royal Navy's new HMS Queen Elizabeth aircraft carrier, medical research centre The Francis Crick Institute, Master Gas System Expansion Phase-1, by Saudi Aramco, and The Temperate House Project. However, the project team for Sunderland's new bridge was awarded the top accolade before an audience of some of the country's leading project managers and infrastructure specialists.
The APM award is the latest honour to be bestowed on Sunderland's new 105m-tall cable-stayed bridge, which links Castletown on the north side of the River Wear with Pallion in the south and took more than 2,000 people to build.
"What a wonderful honour, to be awarded Project of the Year by the Association for Project Management, for our beautiful Northern Spire bridge, especially given the extremely high standard of the other projects nominated," said Sunderland City Council Leader, Cllr Graeme Miller.
"There is no doubt that Northern Spire is an impressive scheme, which required a great deal of programme and project management expertise to plan for and execute the complex nature of the works. We are all very proud of our city's new landmark, but it's wonderful to know that it's also being recognised nationally, too.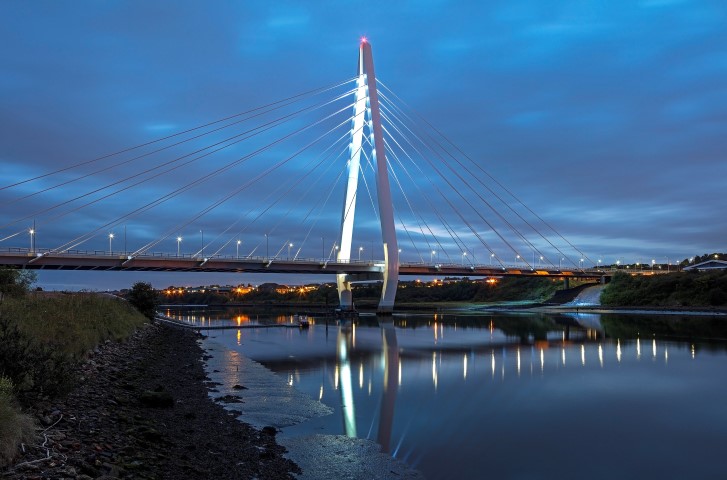 "A big well done to every one of the 2,000 people involved in its construction. The hard work definitely paid off."
During recent months, different aspects of the Northern Spire project have been recognised at award ceremonies up and down the country, from the design of the structure, to the methods used to construct it, project management and public engagement.
Duncan Ross Russell, Project Manager on Northern Spire, from Atkins, which supervised the project on behalf of Sunderland City Council, said he was delighted that the bridge had been recognised by the APM.
"There were so many excellent nominations in this award category, all of which were very worthy winners, so we are thrilled to have been named Project of the Year," said Duncan.
"Projects like Northern Spire cannot be built by one team or contractor, they take the skills and expertise of thousands of different people, from designers and planners to welders and painters, so this award really is for everyone. Those teams working together so well has very much contributed to Northern Spire winning this award.
"We have had an excellent team working on site, involving people from Sunderland, the wider North East, people from across the UK and Ireland, and from a host of different countries, and everyone should feel immensely proud of what they have achieved."
Stephen McCaffrey, Project Director for Farrans Victor Buyck (FVB) Joint Venture, which delivered the project on behalf of Sunderland City Council, said it was the methodologies adopted to build the bridge that made Northern Spire so different.
"We chose to build Northern Spire in quite an innovative way, from constructing the bridge deck on the south side of the river and launching it out in two sections across the river, to fabricating the 105m central pylon in Belgium, before sailing it to Sunderland in one piece.
"It would have been possible to build Northern Spire in a more conventional way, but we chose different methods because we felt it was more efficient and resulted in a better finish, and we had the luxury of space to do it.
"It was a very challenging project – not least in bringing all of the right people and skills together at the right time – but, with detailed planning and seamless teamwork, it was a huge success. I think it's a project that we will all remember for the rest of our careers."
Awards won by Northern Spire this year:
• Institute of Civil Engineering – Robert Stephenson Special Project Award
• Association for Project Management – Project of the Year, Engineering, Construction and Infrastructure
• Chartered Institute of Highways and Transport (NE) – Project of the Year
• Chartered Institute of Highways and Transport (UK) – Major Projects Award, Commended
• Construction Employers Federation – Achieving Excellence in Partnering
• Construction Employers Federation – Great Britain and Republic of Ireland Construction Award
• Considerate Constructors Scheme – Gold National Site Award
• Engineers Ireland Excellence Awards 2018 – Geoscience Ireland Award
• Public Sector Communications Awards – Media Relations Campaign of the Year
• PRCA Dare Awards 2018 – Public Sector Award
• National Association of Scaffolding Contractors 2017 – Project of the Year, Interlink Scaffolding
Work began on Northern Spire in May 2015. During the three-year build programme, more than 2,000 people worked on the project, clocking up more than a million work-hours. It was built within its allocated £117m budget, two thirds of which was met by the Government and the remaining from Sunderland City Council.
The bridge is Phase 2 of Sunderland City Council's Strategic Transport Corridor, which is a five-phase plan to improve the road network between the A19 and the city centre and port.
It is reducing congestion and travel time for motorists in the city and will also open up huge areas of land along the River Wear for regeneration, whilst also attracting investment, boosting the economy and leading to more jobs.
The next phase of the works to improve the road network is a dual carriageway that will pick up where Northern Spire ends on the south side of the river, linking the new bridge to St Mary's Boulevard, going under Queen Alexandra bridge. It is expected to get underway next year and is likely to be complete in 2021.