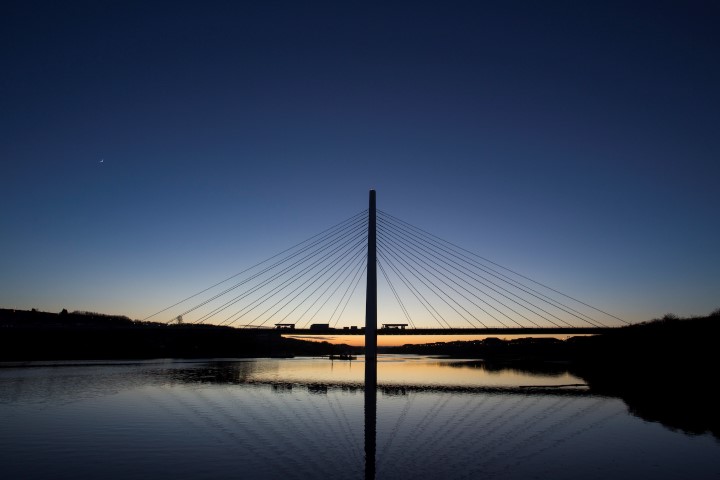 A busy stretch of road in Sunderland that has been temporarily closed to enable works around the new Northern Spire bridge to be complete is due to re-open this week.
Timber Beach Road, which runs through Sunderland Enterprise Park, will re-open to traffic on Wednesday afternoon this week (February 7).
It follows a four-week closure of a 350m stretch of the road, between DW Fitness and Wessington Dental practice, which has enabled the road to be redirected under Northern Spire.
Once the road is re-opened on Wednesday afternoon, there will be temporary traffic lights in operation on the route for another three-to-four-weeks, while additional work is carried out alongside the new road.
The route is then expected to be fully open, though there will be a final overnight or weekend closure later in the spring to complete the work.
Deputy Leader of Sunderland City Council, Cllr Harry Trueman, said: "The re-opening of Timber Beach Road is great news and a big step towards the completion of our landmark Northern Spire and road improvement project.
"I'd like to thank motorists for their patience whilst this work has been carried out. We appreciate it has caused some inconvenience to people working in the area.
"We are now entering the final stage of the Northern Spire project and remain on track to open later in the spring."
The new bridge was officially named Northern Spire at the end of last year and is the first to be built across the River Wear in the city for 40 years.
It is Phase 2 of the Sunderland Strategic Transport Corridor, which is a five-phase road enhancement scheme to improve links between the A19 and Sunderland City Centre and the Port of Sunderland.
Phase 1, the city centre St Mary's scheme, is already complete, and Phase 3, joining the bridge to the city centre, has recently received planning permission, and will get underway early next year.
The Northern Spire will link Castletown with Pallion and will enable land along the south side of the river to be regenerated. It will also attract investment into Sunderland, help to create jobs, and reduce journey time for motorists travelling around the city.
Stephen McCaffrey, Project Director for Farrans Construction and Victor Buyck Steel Construction, which formed FVB joint venture to deliver the project on behalf of Sunderland City Council, said: "We would like to thank everyone for their understanding during recent weeks as we carried out this pivotal part of the road improvement scheme on the north side of the river, particularly those businesses and workers who were impacted by the road closure.
"The complexity of the scheme and environment around it meant we had no choice but to close this section of Timber Beach Road whilst we re-routed the road under the bridge.
"There are still minor roadworks to complete in the area, but the road will be open to traffic later this week.
"We are now busy finishing the bridge deck, lighting, railings and other safety features as the Northern Spire nears completion."