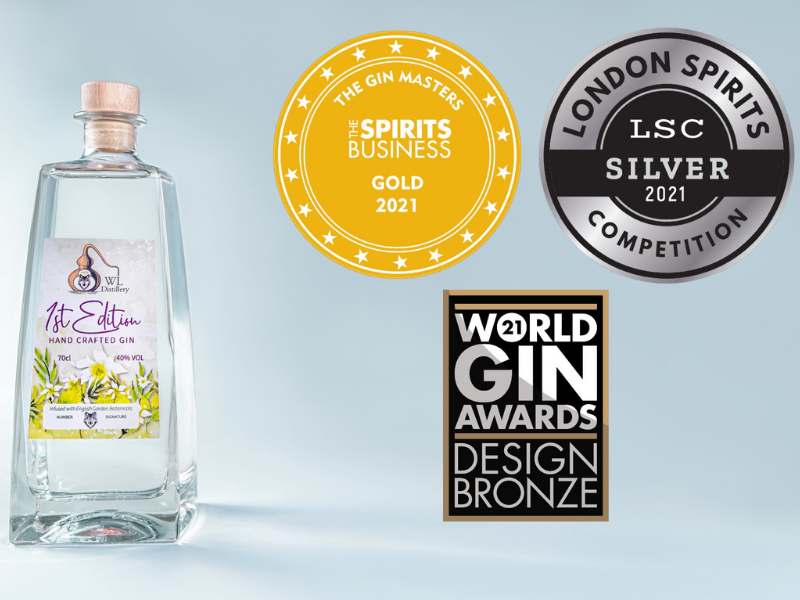 WL Distillery have their sights on further growth as they gear up to move into the popular STACK Newcastle site this week. The distillery which has benefited from substantial developments since it's early inception last year will open a shop unit at the STACK Newcastle on Saturday 14 August.
At unit 20, WL Distillery will not only stock their own range of award-winning gins, but also plan to be a hub for other local up and coming spirits brands from across the region. Ranges from House of Ruhr, the Sunderland based supplier of award-winning handcrafted spirits and liqueur distilled by artisans in the Ruhr Valley, Germany will be stocked. Alongside, Northumberland drinks firm Artisan Drinks whose well established tonic and mixer brand are stocked in bars such as the Dolce and Gabbana Martini bar in Milan.
Scott Wilson-Laing, Founder and Managing Director at WL Distillery said:
"I'm all too aware how difficult the last year has been for businesses across the region and here at WL Distillery we managed to adapt our business strategy like many others to field the pandemic. We have however, been able to benefit from strong growth which has been supported by securing an array of industry awards over the last few months.
The opening of the unit at the STACK Newcastle is a great opportunity to further build our visual presence and also a chance to work with key local suppliers and producers such as House of Ruhr and Artisan Drinks to showcase the great range of products supplied in the North East.

Alongside established brands the site will aim to showcase and work with up and coming brands and producers and act as a platform to show the very best in what is available."
In addition to the popular street food and bars traders, WL Distillery will join a growing portfolio of lifestyle traders based at the Newcastle site.
Neill Winch, CEO of Danieli Holdings which owns and operates STACK Newcastle said:
"We are delighted that WL Distillery will be joining us at STACK Newcastle. As a North East based business we are passionate about creating opportunities for local entrepreneurs. WL Distillery are an award-winning local success story and it's great that they'll be sharing the next stage of their journey with a unit at our site."
Bryn Jones, Director at House of Ruhr said:
"House of Ruhr, home of award-winning spirits and liqueurs, is proud to be part of the collaboration with WL Distillery to support local, small batch drinks brands in North East England and we're delighted to be featured at Unit 20."
Artisan Drinks are a premium range of craft mixer drinks; designed to complement an increasingly diverse variety of spirits. Formed by a creative collaboration between North East born beverage entrepreneur, Steve Cooper, award-winning cocktail specialist & bar owner, Mikey Enright, and Yorkshire-born international artist, Alan Walsh. Each Artisan recipe is made with the finest natural ingredients and is elegantly presented with artwork on every bottle.
Artisan's co-founder Steve Cooper said:
"I have spent all of my career in the drinks sector, I started at Scottish & Newcastle Brewery, quite literally got the taste for the drinks sector and have never wanted to leave it ever since. My career path involved looking after innovation for Coca-Cola in the UK, working for Lion, one of Australia's biggest brewers and running 2 businesses for Coca-Cola Amatil in Sydney! I thought the best way to create a truly different mixer brand was to combine all three of our 'artisan skills'. With Mikey's knowledge of craft spirits and Al's elegant illustrations we have added some colour, craft and character to the fast-growing mixers category! We are really looking forward to making our mark in Newcastle…after all why blend in when you can stand out!"
WL Distillery continue to make a splash in the gin market and securing the new shop unit comes hot on the heels of the announcement that the distillery had won a trio of industry awards within a three-month period, further cementing the distillery as a key player in the ever-growing gin market.
WL Distillery won Silver at the prestigious 2021 London Spirits Competition, alongside a further two awards including Gold at The Gin Masters and Design Bronze at The World Gin Awards.
Scott Wilson-Laing, added:
"We have been on an incredible journey and are delighted that our 1st Edition Gin has been awarded a trio of leading industry awards in such a short period of time. We are committed to ensuring a fresh and classic authentic gin experience for customers and these awards demonstrates that the spirits we are making are the kind that bar managers and mixologists want to stock, and spirits drinkers enjoy drinking."
The award-winning 1st Edition Gin has been complemented over the months by limited edition festive and Valentine ranges alongside a new refreshing sensation, Wilson's Gin Club 'Watermelon and Liquorice' which is proving to be just the tonic to tantalise the tastebuds of the growing loyal customer base.
With ingredients taking centre stage, WL Distillery take great interest in nature and the beauty that it represents. Each bottle is infused using handpicked, measured botanicals and natural mineral spring water to ensure the freshest, most authentic taste. The distillery is committed to combining their passion for gin with capturing the charm and nature of the region.
With listings in Vogue and GQ magazine, the explosion of flavours from the award-winning distillery continue to be a hit with gin enthusiasts. WL Distillery @ Unit 20 @ the STACK Newcastle opening days and times will be Wednesday – Sunday (10am – 6pm) or shop online at www.wldistillery.com