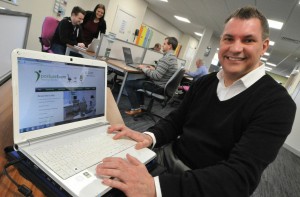 This 12 Days of Start Up series aims to provide you with all the information you need to get on the right path to self-employment. Starting a business can be like climbing a mountain, it may look daunting from the bottom but focus on one step at a time and you'll soon be at the top. Past days can be found here.
There are many benefits to starting your own business. Every year we see hundreds of people who want to become self-employed and their reasons for becoming their own boss are always of interest to me.
Those who are facing redundancy want to take control of their own lives, some do it because they think it is time for a change, others have spotted a gap in the market, for many it's turning a passion or hobby into their full time career and of course there are those that think they can make lots of money.
With the many benefits of being your own boss there are also two sides to the coin and it isn't for everyone. There is a tremendous amount of responsibility you have to be sure all these wheels are turning all the same time. A well-oiled machine takes time to build and takes constant maintenance. You didn't want to become your own boss so your life would be less stressful, did you?
But with the disadvantages bring many benefits too and if you work hard you can reap them. Here are just a few that some of our start up clients have mentioned:
"We have flexibility and as we are a partnership there is always someone who can do the job if one of us needs to take time off. We know how much we need to make and what we need to do to make a living. As we are brothers it's a relaxed relationship and we work together to ensure we make the business a success." Lee Geeson, O2 Cleaning and Gardening Services
"I like to be out and about and can do things my own way. I now have the flexibility to spend time with my family." Richard Arthur, 2 Hot 2 Handle
"I didn't think how much I would enjoy it. It's a great feeling that I'm helping people who are in pain with their feet or unhappy with how they look. I have such a range of clients, both male and female, so no day is the same. I've got lots of exciting plans for the future." Kirsty Blunt, The Foot Lady
You choose who you work with and have the freedom to work on different projects for different companies. You are in control of what you do. You have the freedom and flexibility to fit work around your family life. Need to pick the children up from school, have to make a doctor's appointment? No problem. Make your working hours suit your schedule.
Whatever your motivation for starting a business, we are here to help. For inspiration view a handful of successful entrepreneurs who have turned their dreams into reality after visiting the BIC.