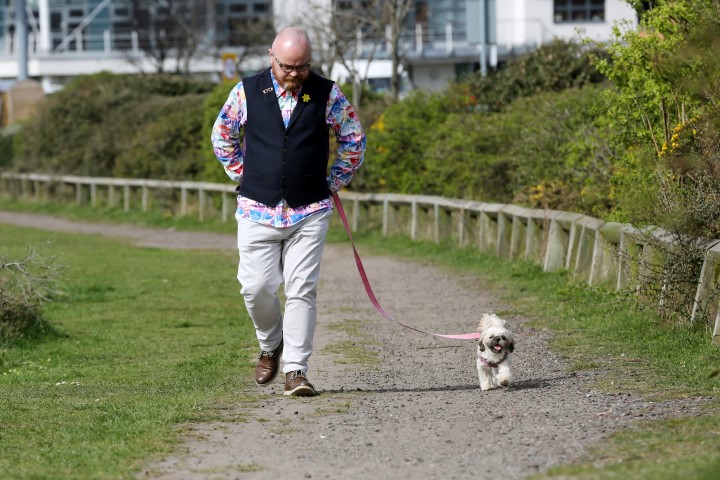 Office workers are spending more time than ever before at their desks and the time we spend in meetings is increasing year-on-year, with the average worker spending 213 hours a year – equivalent to 26 working days – in a meeting.
Although this is not necessarily a bad thing, sedentary work can lead to employees feeling tethered to their desks with little or no time to exercise throughout the day.
Given that meetings still need to take place, many employers are now embracing walking meetings as an active replacement to the traditional conference room setup, encouraging teams to simply take a stroll to exercise both their bodies and minds.
Here at the North East Business and Innovation Centre (BIC), we have recently made improvements to our outdoor areas to support our tenants and their employees who want to participate in walking meetings, as well as supporting workplace wellness.
The benefits of walking meetings
Steve Jobs and Mark Zuckerburg are just two of the famous names who favour walking meetings, and recent research shows that the act of walking can increase creative thinking and boost productivity and happiness at work. That's certainly grounds for exploring the benefits of walking meetings within your business, don't you think?
Here's five reasons you may want to consider meetings on the move…
Employee health
For office workers, it can be hard to find the time to integrate physical activity into the working day. Walking meetings will allow employees to increase their daily step count and support their overall health.
Increased creativity
The simple act of putting one foot in front of the other and getting some fresh air can boost creativity both during and after walking. If the purpose of your meeting can be discussed while walking, why not get outside and let your ideas flow freely?
Boost workplace wellbeing
One of the simple benefits of walking meetings is that it gets people away from their desks. Studies show that increasing our movement throughout the day can lead to improved physical and emotional wellbeing, which can boost the overall mood and energy of a workplace.
Improved collaboration
Walking meetings can be more personal and encourage employees to interact in a way they maybe wouldn't in a traditional meeting, helping to build bonds and friendships in the workplace and improve social wellbeing.
Increase concentration levels
Even just 15 – 20 minutes of walking each day can increase energy levels and improve concentration at work. Whether you have a meeting or not, just getting outside for a short walk on your lunchbreak can make all the difference to your productivity in the afternoon.
Where can I host a walking meeting near the BIC?
The BIC's beautiful riverside location is perfect for walking meetings. Here's a selection of local walking routes we recommend: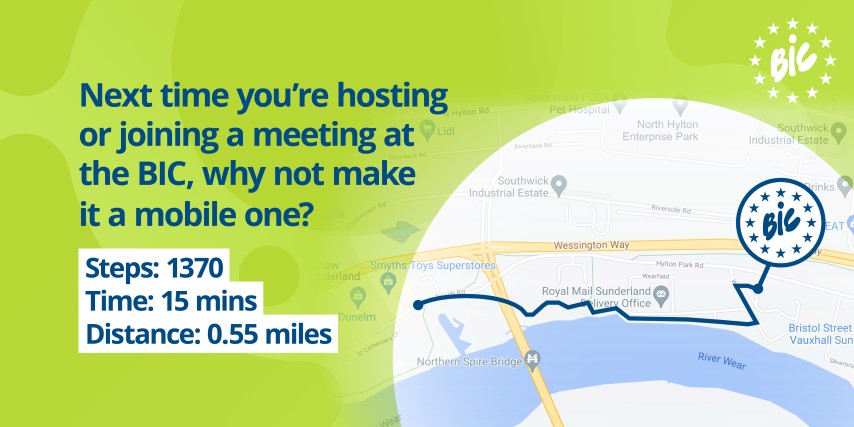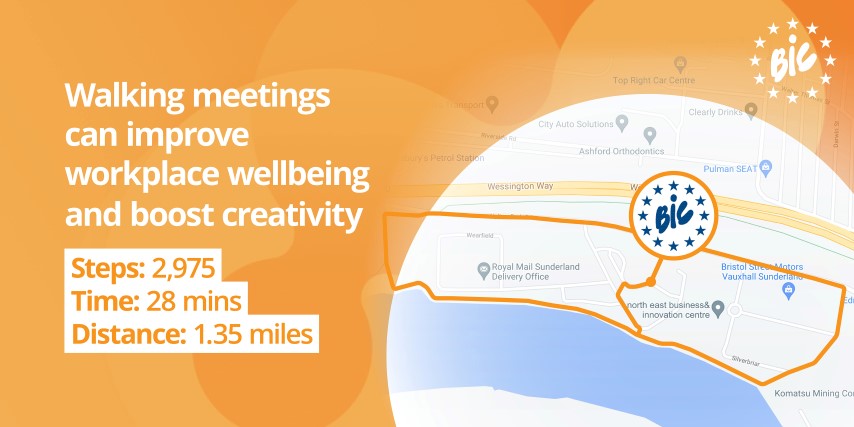 For more information about the facilities at the BIC, call 0191 516 6200 or click here.