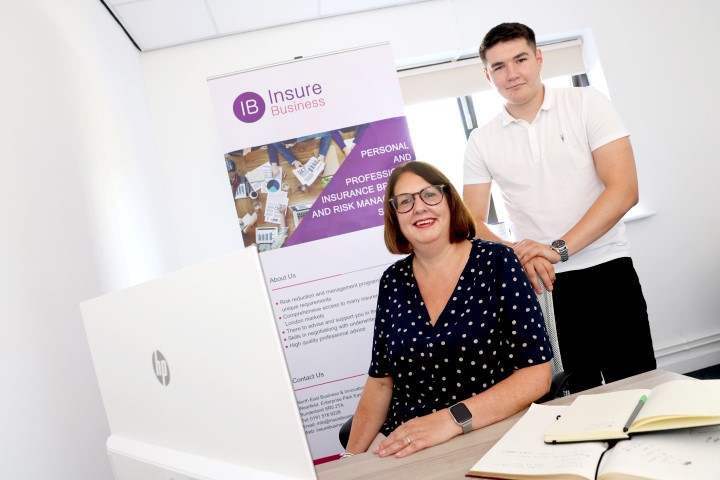 Entrepreneur flies the flag for women in insurance
A SUCCESSFUL business owner has spoken of her pride of flying the flag for independent insurance brokers in the North East.
Kate Allison set up Insure Business Services Ltd in 2015 to provide insurance broking services to businesses across the UK, with clients in a range of sectors from engineers to solicitors, large property owners, contractors and food and drink manufacturers.
Starting out as an appointed representative, Kate became directly authorised by the Financial Conduct Authority (FCA) last year, allowing her to take steps not often trod by women in the industry.
"I'm incredibly proud to have set up my own business," she said. "Throughout my career, I had wanted to set up my own broking firm to enable me to provide a professional and personal service to a wide range of business and use our expertise to work at a strategic level and help manage their risks.
"Becoming directly authorised is the next step in achieving our goals and despite this being a lot of hard work, it was definitely the right thing to do."
Boasting over 30 years' experience in the industry, Kate had spent the best part of four years working for herself prior to taking on her first employee two years ago and a second employee is now set to join the company in the coming weeks, to assist with the continued growth of the business.
The authorisation by the FCA, however, will allow Kate to step Insure Business up a gear, with the opening of a new head office providing the capacity required to continue growing the team and increase its market share.
She said: "I was born and bred in the North East, so I am delighted to be building my business here and creating opportunities for others looking to carve out a career in the industry.
"I want to create jobs and continue providing a first-class service to our clients which will require more hands on deck and the new office will really enable that.
"As a company, we've grown organically and fast, securing work with companies across the UK. Ideally, we'd like to recruit two to three people if possible, in insurance broking and account executive and handling roles, with more potentially on the horizon further down the line.
"Due to the amalgamation of lots of other brokers in the industry and in the North East, there's a gap in the market for good quality, in-person service and advice when it comes to commercial business and I really believe we can help fill the void."
The new Insure Business head office is located at the North East BIC, just a few minutes' drive from Sunderland city centre and the A19.
She added: "I've worked from the BIC for some time so I was confident that, when the time came to open our first office, this would be the perfect place for us.
"It just has such a professional atmosphere. The support services you can access are fantastic, and it's really set up to help businesses grow and connect with other like-minded companies. Everyone is also really friendly, they can't do enough for you. I'm very happy to bring clients and insurers here. It's the best kept business secret in the North East for me."
Donna Surtees, centre manager at the BIC, said: "It's been great seeing Kate grow from working out of the BIC herself to a full-time tenant operating her own office and building a team around her, especially in such a challenging industry.
"The BIC was set up to provide flexible office space that allows start-up and small businesses to grow at a pace which suits their needs and Insure Business is a great example of how we enable that to happen. We'd like to wish them all the best for the future."
For more information about BICWorkspace click here.