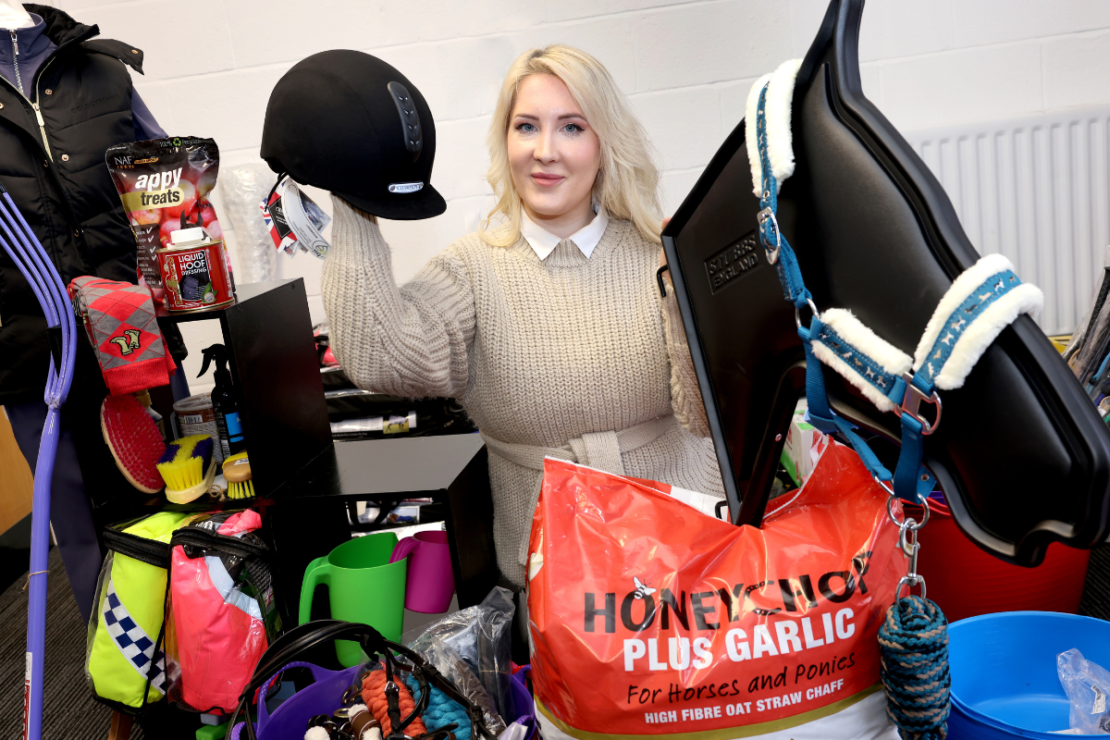 Equestrian entrepreneur is riding high with e-commerce start up
A North East business supplying equestrian products and clothing is scaling up, after unbridled success during its first year in business.
Equestrian Rose Ltd, founded by Laura Rose in 2021, has expanded into a new, larger unit at the North East BIC in Sunderland, after seeing an increase in demand for its products, including everything from rider clothing and footwear to bridles and rugs.
Inspired by Laura's love for animals, the e-commerce store also stocks dog accessories, food and toys, as well as equipment and tools for stables, tack rooms, arenas and fields.
Now, Laura is creating her own collection of riding wear called Equestrian Rose Ltd Apparel, which is due to launch later this year, adding to the shop's extensive offering.
Laura said: "I have always loved horses and I knew from a young age that I wanted to work with animals in any way that I could.
"Equestrian Rose is my dream and moving into this bigger unit gives us room to have customers come in to see the products and buy in person, which is great as we don't have many equestrian shops in Sunderland. It's also giving us the opportunity to develop our own fully inclusive apparel line, which has always been my goal for the business.
"We currently have the prototypes and are just waiting to go ahead and manufacture the collection, which we will then sell on the website and offer for wholesale."
Laura moved to the North East BIC in May 2022 and started off in a 194 sq ft office, before growing into a 409 sq ft unit by December.
Following support from the BIC's team of advisers and receiving grant funding to support with recruitment, Laura also welcomed her first employee in December to support with the office and stock management.
Laura added: "At the moment it's just me and Emma, our new office manager, but I'm hoping to create another part time role in the near future as the business grows.
"The BIC team are legendary, and I don't think I'd be where I am without them. From the one-to-one business support, access to events and signposting to grant funding, they have been absolutely brilliant.
"My aim now is to continue expanding the business, raising brand awareness across social media and finding ways we can support animal rescue charities close to my heart."
Donna Surtees, centre manager at the North East BIC, said: "We're delighted to have been able to support Laura in recruiting her first member of staff and expanding Equestrian Rose into a larger unit here at the BIC.
"Our flexible workspace and team of business advisers makes the BIC ideal for fast-growing businesses, and we can't wait to see how Laura's shop continues to thrive with the launch of her own range of apparel."
To find out more about Equestrian Rose Ltd, visit website.