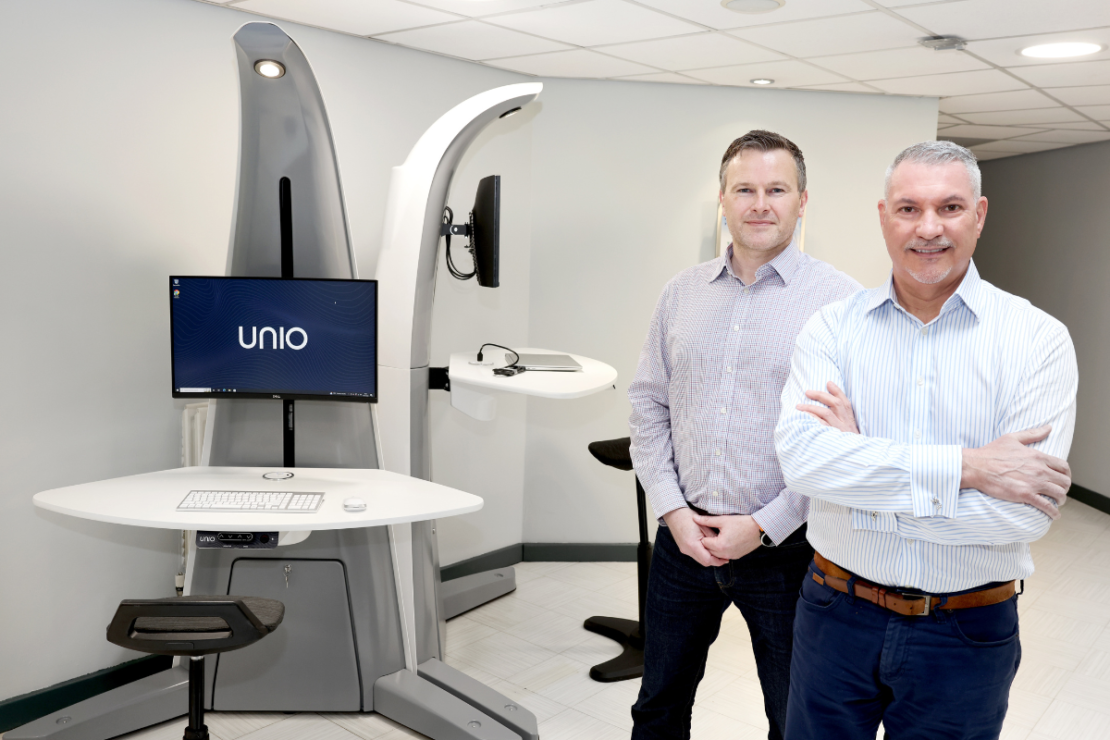 Hot desking leads to desk innovation for local entrepreneurs
An idea sparked in a hot desking facility has led two local entrepreneurs to a hot new concept – for the office desk.

Workspace designer Michael White and electrical installation expert Dave Green met at the North East BIC's coworking space back in 2018 when using the shared workspace for their own businesses.

A chance conversation resulted in the pair collaborating to find space-saving solutions for an expanding local company which was struggling to fit extra work stations into its crowded office.

That's when they hit upon the concept for UNIO – a smart, ergonomic and electric adjusting desk that allows the user to change position from sitting to standing at the push of a button.
And after discussing the idea with the BIC's business advisers, they embarked on a new start-up journey together to design, develop and bring the product to market.

Fast forward five years and their innovation is now available to buy and trade experts have had a chance to try it out at a product launch.

And in a move that brings the start-up story full circle, the BIC has become UNIO's first customer after purchasing two workstations for use by tenants and visitors to its Sunderland riverside business centre.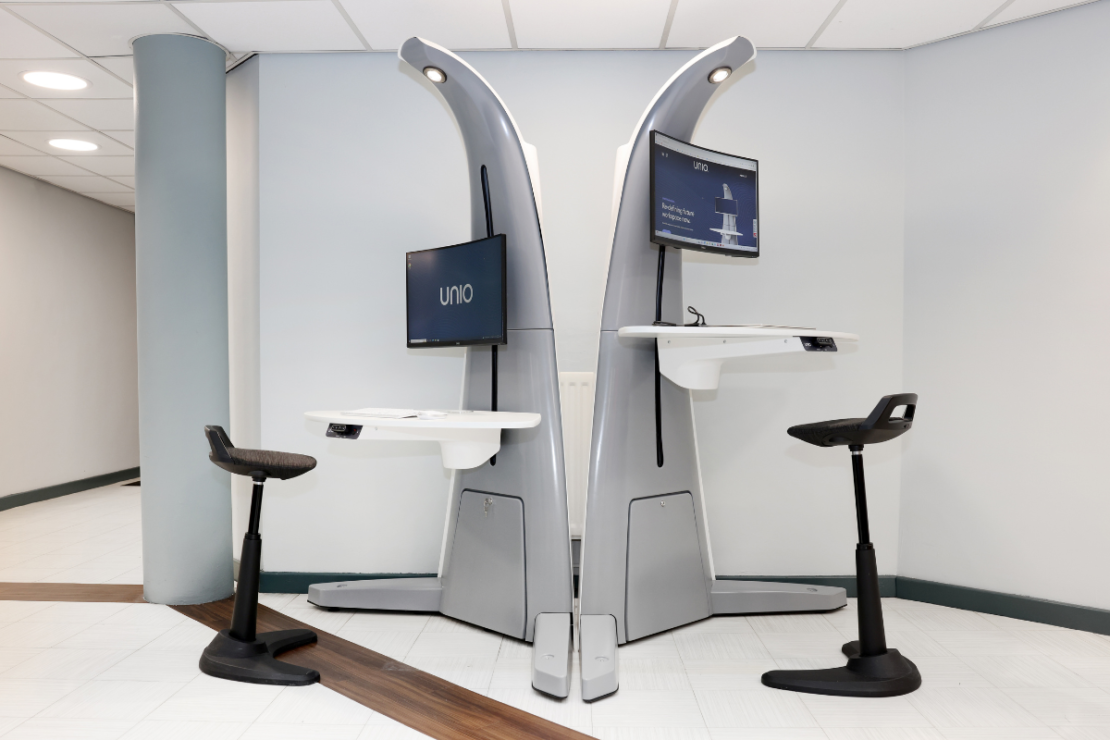 Co-founder Michael said: "We're very excited to finally be able to share UNIO with the world after years of hard work bringing it to life. It's a true North East collaboration story. So many people and organisations have helped to make it happen, including the BIC who have supported us from concept to launch.

"It is incredible to see UNIO now being used and enjoyed by people because this is the greatest makeover the humble desk has ever had!

"We believe it has the potential to revolutionise workspace in the post-Covid world of business where a hybrid approach to work is the new normal and companies need their spaces to work better than ever for their teams and their bottom line."
Made in Britain and assembled in the North East of England, UNIO is the only work station in the world to have an independent, electronically moving desk and monitor, to support movement and health in the workplace. Its space-saving corner design is customisable, features an overhead light, storage and is connection-ready with cables neatly hidden in the core.

UNIO is designed to stand alone or can be arranged in banks of up to four, meaning businesses can maximise office space. It is intended to appeal to a wide range of sectors and markets including call centres, conference centres, airports, hotels, universities and coworking spaces.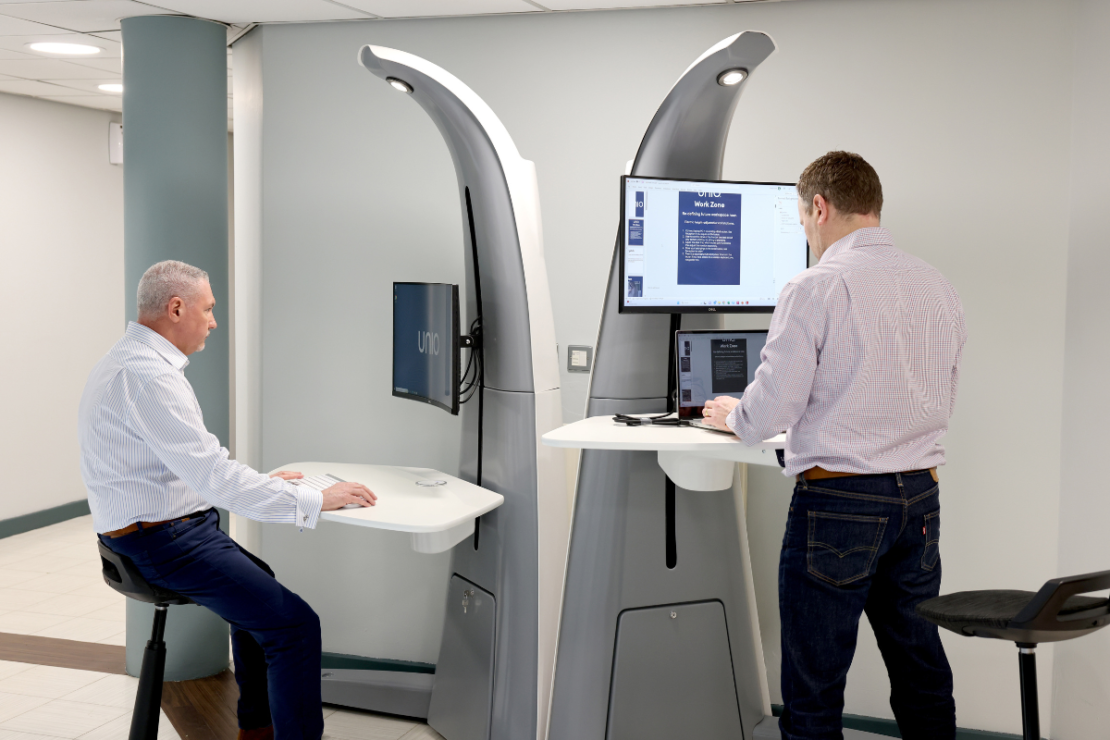 Michael and Dave moved into a dedicated office at the BIC to develop UNIO and utilised a wide range of services and support available via the BIC to get their idea off the ground, including £20,000 in funding from the Innovation Programme for prototyping and design.
Other support came from NBSL, RTC, Sunderland University, Sunderland City Council, Proto Design, Northern Design Network and Newcastle and Northumbria universities. They also received grants of £20,477 from the Next Generation Advanced Manufacturing Accelerator (NGAMA) and a £7,500 Innovation Grant, both of which were part funded by the European Regional Development Fund.

The BIC's Chief Executive Paul McEldon said: "UNIO's start-up story is the perfect example of just how supportive and collaborative the North East is when it comes to encouraging our entrepreneurs. It's been fantastic to be involved from the grain of an idea right through to the delivery and installation of the workstation in our business centre.

"As landlords ourselves we are keen to invest in the future of workspace so it's very exciting to see such a revolutionary idea coming from our very own tenants. We can't wait to see what comes next for them in their journey."

The company was also supported on its start-up journey by the business investment team at Sunderland City Council. Patrick Melia, Chief Executive of the city council, said: "We are delighted to have been able to support the team at UNIO and to see them already establishing the company as a UK manufacturing success story.

"Sunderland has a rich industrial heritage which has seen it develop and export products across the globe and hopefully the team at UNIO are the next to write their names into the city's history books."
For more information about UNIO visit hellounio.com or call 0191 516 6588

For more information about the workspaces and support available at the North East BIC visit ne-bic.co.uk or call 0191 516 6000