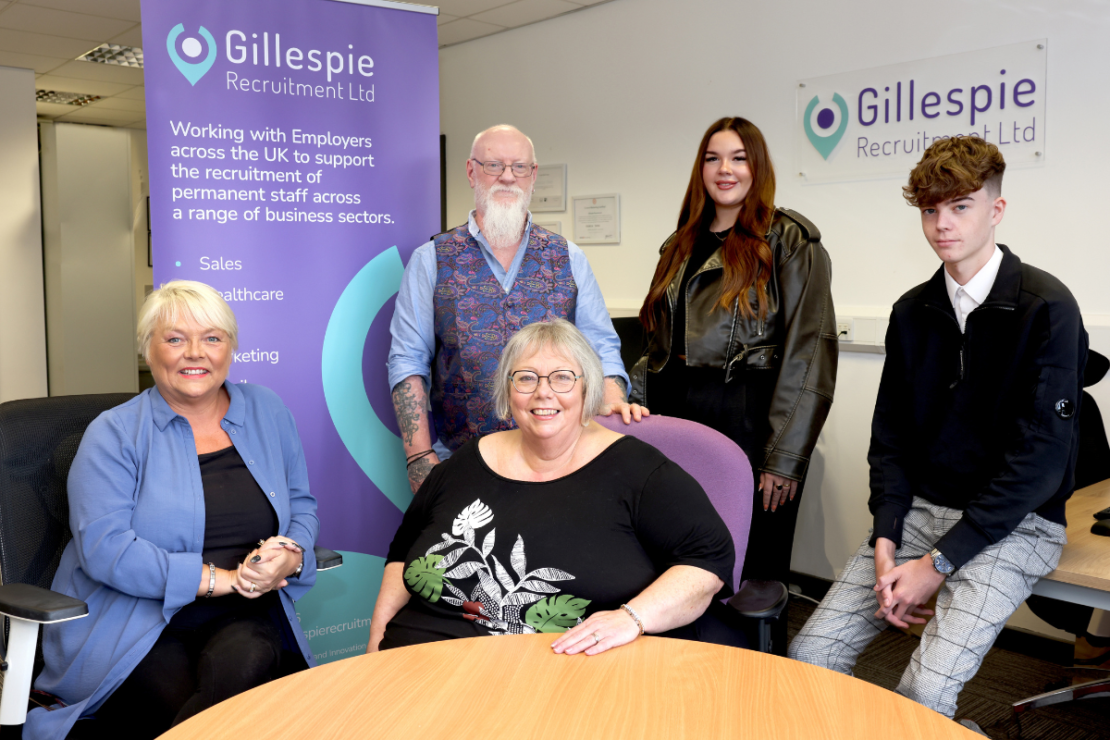 Second anniversary marks success for recruitment consultancy
A North East recruitment consultancy is celebrating its second year in business, after a series of new contract wins help to promote growth.

Gillespie Recruitment, based at the North East BIC in Sunderland, was founded by entrepreneur Laura Gillespie in 2021 and has organically grown over the last two years thanks to word-of-mouth recommendations.

Laura, who worked in recruitment for more than 13 years before setting up the business while working from home during the pandemic, said it's thanks to her fantastic team and strong network that the business has grown with little marketing or sales efforts.

She said: "I still see myself as a recruiter and not a business owner. I have a strong network of people who support me and the business. We have a great client base and a team that have a proven ability to support our growth."
Growing from a one-woman operation to a team of five, Gillespie Recruitment has employees in-house working across a variety of sectors including Digital Marketing, Finance, and Healthcare and the consultancy is showing no signs of slowing down its remarkable growth.

Joining the team most recently is Ben Purcell who began his new career in August as a Business Admin Apprentice. Ben said:
"I was over the moon to hear I got the job! Laura and the team came across so friendly and passionate about their work. Two weeks in, I can understand why. I've loved my time so far; it's been very fun and interesting to see behind the scenes of recruitment and to work with such a helpful and caring team."
Most recently, the firm won a contract with fintech business One Utility Bill. The team worked with One Utility Bill's existing People Team to assist in recruiting their seasonal fixed term contract team for their summer peak period.

In just two months, the team supported with the internal recruitment process and placement of support roles including sales advisors, customer support advisors and administration assistants. The team contributed to placing up to 40 fixed term employees.

Laura said: "I'm extremely proud of how the team has supported One Utility Bill during what is a particularly busy time for their business.
Laura credits the BIC with helping her scale the business at pace, from moving to larger workspace with little disruption to the operation to securing customers through its many networking events and tapping into free support from its expert business advisers.

"Last year we moved into a much bigger office space at the BIC as we expanded the team and took on more work through referrals and recommendations," added Laura.

"I still speak with their business advice team too. The advisers are a great sounding board for me as I'm still new to running a business. It's such a great place to be.

"Moving into our third year, we're excited to be busy and see what the next year brings!"

Paul McEldon, chief executive at the BIC, said: "It's fantastic to see businesses like Gillespie Recruitment thriving here at the BIC.

"Our flexible workspace and on-site business support has played a key role in the success of many businesses across the region.
"It's been great for our team to be involved with Laura's consultancy from the start and see her grow the business through recommendations and a brilliant company culture. We wish Laura all the best in the third year of her business journey."

To find out more about Gillespie Recruitment, visit: https://gillespierecruitment.co.uk/

For more information about BICWorkspace call 0191 516 6066 or click here.