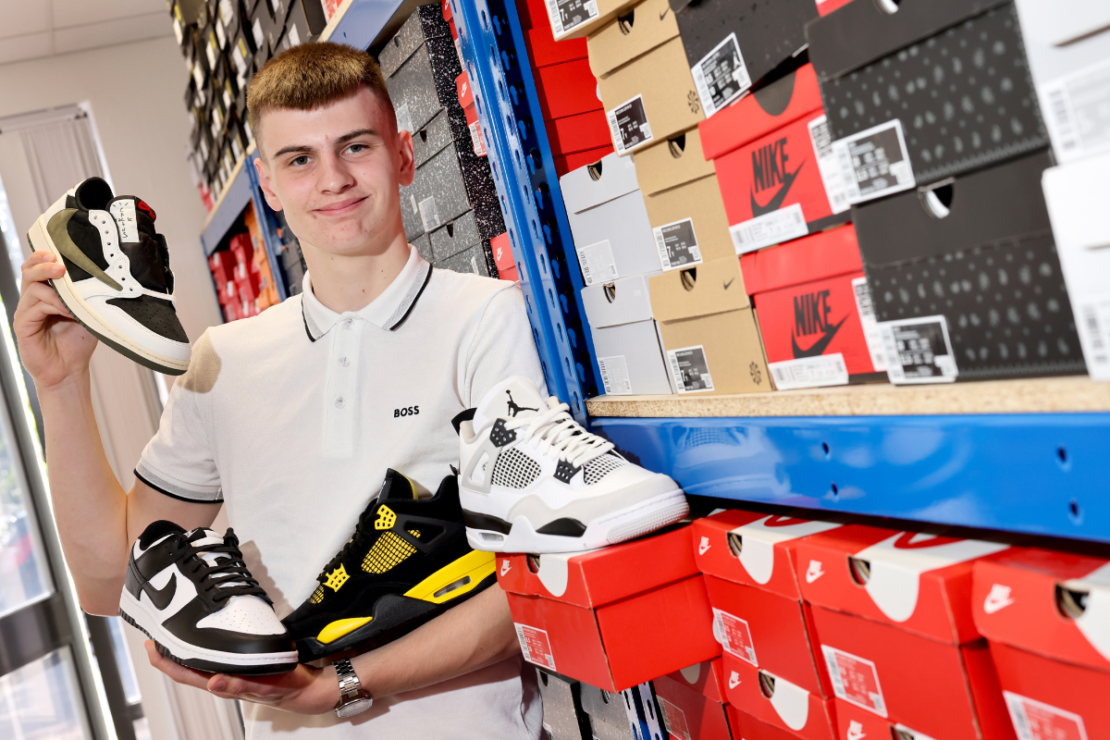 Only Human: Meet Elliott Usher, The Sole Guyy

Our Only Human series of articles profiles the people behind the businesses at the BIC, shining a spotlight on their real experiences of being in business and what makes them tick.
In our second feature of the series, we caught up with 16-year-old entrepreneur, Elliot Usher, to hear all about his journey so far with his high-end trainer retail business, The Sole Guyy…
What we do: The Sole Guyy is an online store which specialises in buying and selling highly sought-after trainers that are hard to find in traditional stores. The business stocks a range of trainers from different brands but mainly specialises in Nike Air Jordan's, such as the Jordan 4 or Jordan 1. It's mainly the rarer trainers which have been discontinued or were only ever released in limited quantities. We sell online via our website, an app and showcase and promote our stock mainly via social media and various online websites and platforms and most of our customers are in the US, however we do sell world-wide.
How long we've been in business: I started up this year after finishing school and deciding not to study at sixth form or college. One of my brother's friends used to collect and sell trainers in his spare time and I started doing the same. I bought my first pair of Yeezy trainers for £120 and sold them to someone in the US. It was the Yeezy 350 Butters. That was about 3 years ago now but I didn't officially start the business and begin taking it seriously until this year.
When I realised it could be a successful business: Once my volumes started to increase significantly in my earlier stages I knew if I stuck at it and gave it more time, then I could increase volume even more and even look at other ways of making money for the business.
My biggest influencer is: My biggest influence are my family for their support and understanding, from helping me take parcels to the post office to encouraging me to follow my dream.
Business highlight: I think it has to be my biggest sale to date, which saw me source and sell a rare pair of Air Jordan's for £6,000. My goal is still to beat that however I think it will take some doing if I'm honest!
It wouldn't have happened without: My friends and family who have all been very supportive. They've always encouraged me. I really didn't want to stop on at school or go on to any other form of education and they encouraged me to do this.
The BIC have also been a huge help. They provide all sorts of courses and training for things like marketing and managing finances so I'm attending those too to learn more about running a business and how to grow it.
Plans for the future: My next aim is to keep expanding my stock so that I can offer more trainers for my customers to continue growing the business however I'm also looking at other avenues we can go down in terms of products to sell and ways of selling them, so watch this space.
My top tips for budding entrepreneurs: My main tips for aspiring entrepreneurs would be to not get too greedy, focus on building a strong customer base when just starting out and then the rest will come over time.
Find out more about my business:
Instagram: @thesoleguyy, https://thesoleguyy.com/
Over to you!
Would you like to share your honest account of life in business? We're keen to hear the amusing anecdotes, day-to-day dilemmas and unusual highlights of entrepreneurs to encourage others on the path to business ownership.
Please drop us a line and we'll be in touch!