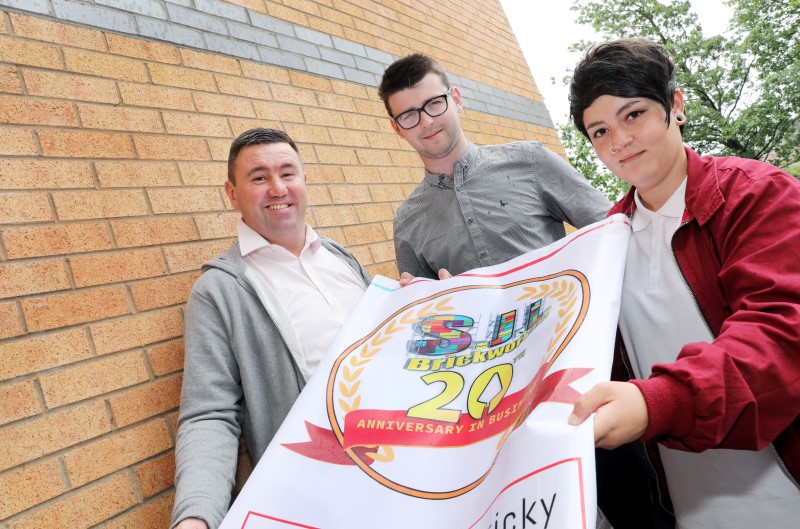 SPECIALIST brickwork contractor, Steven Lynn, is celebrating the 20th anniversary of running his own business.
Steven, from Grangetown, Sunderland set up his building firm SJL Brickwork in May 1999 with a small advert in his local newspaper after returning to the North East from working across the UK and in Europe.
A former student at the old Wearside College where he gained his Level 1 and 2 in Advanced Craft, his first job as a business owner was a brick pillar gate post. Since then his company has gradually increased in size specialising in small to large projects in the commercial, education, retail, industrial, housing and health sectors.
Steven has also used his own experience to train local apprentices with one coming third in the national finals in Scotland after winning the regional North East competition.
In 2009 Steven moved into his premises at the North East Business and Innovation Centre (BIC) on Sunderland Enterprise Park. Having become a Limited company in 2007 with a workforce of around 25 Steven then faced some tumultuous times as the recession took a hold, and the work began to dry up. However the business owner was not about to give up, Steven said:
SJL Brickwork has faced tumultuous times as a business but its owner has persevered. Steven said: "When the recession hit in 2008 all housing sites stopped and work dried up so I had to scale right back and take on any jobs I could get with a small team.
"I have learnt from mistakes along the years and I think the most important thing for any business owner is to never give up.
"It wasn't until 2012 when things picked up properly again and I got the chance to do bigger jobs with a bigger workforce, which is what I always wanted to do."
Personal tragedies struck in recent years with Steven losing both his parents within a short time of each other and, most recently, his son Steven who tragically passed away aged only 25.
"I have faced many ups and downs," he said. "But I look forward to many more years in business to come. With the help and support from family, friends and a loyal workforce I am now proud to celebrate the 20th year of business with SJL Brickwork Ltd."

Donna Surtees, Centre Manager at the BIC, said: "Congratulations to Steven and all his team at SJL Brickwork. Twenty years in business is a tremendous achievement, especially in construction which can be a turbulent industry. His hard work and perseverance is evident and we're looking forward to continuing to work together for years to come."