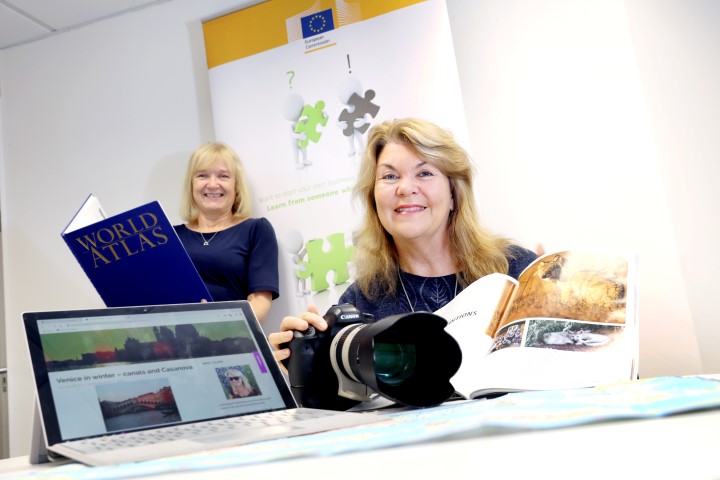 A LOCAL travel blogger is looking to take her business to new heights after participating in a European 'entrepreneur exchange' programme.
Elaine Wilson, who formerly worked in marketing roles for a range of organisations, launched her travel blog Eccentric England five years ago while visiting friends in Australia.
Initially, her blog acted as a means to keep her friends and family updated with her volunteering work at an animal rescue shelter and to share photos and videos showcasing her experiences.
However, Elaine enjoyed blogging so much that when she returned home, she continued to blog in her spare time and began looking at how she could turn doing something that she loved into a full-time occupation.
She explains: "I have always been a writer and someone who enjoys telling stories, so it seemed a natural progression. I love doing it, I find it cathartic, as soon as you're involved in writing something it just takes your mind off everything else.
"The old adage says everyone has a book in them but the thought of sitting down and writing a book was always too much for me. The best thing about a blog is it's bitesized. I received a lot of feedback from friends and I slowly built up a following. Before I knew it, I was away."
Elaine attended a series of business networking events when she returned home to the North East but it was a Boost your Business event promoted by the North East Business and Innovation Centre (BIC) that first introduced her to the Erasmus for Young Entrepreneurs programme and helped her really push her business idea forward.
The programme is a cross border exchange initiative which has been running for the last ten years, and offers those in the early stages of starting a business the opportunity to spend three to four months working hand-in-hand with a similar business in Europe.
The North East Business and Innovation Centre (BIC) is one of the ten UK organisations helping deliver the programme and over the past 6 years has helped 50 start-up entrepreneurs hone their skills by working and studying in businesses overseas.
Elaine said: "Louise Hardy at the BIC was absolutely fantastic and helped identify three potential hosts in Seville, Athens and Venice before we settled on Venice and I decided to register for a place on the programme.
"I spent four months with a travel business there called Vivo Ventia and it was a huge eye-opener for me. Not only did it give me an insight into the workings and different trends surrounding their travel industry but it really helped me develop my own business skills and learn how to commercialise my blog.
"Affiliate marketing, SEO and promoted posts are just a few of the aspects of blogging you need to master in order to make a success of it and the experience I gained from the Erasmus programme has really helped me develop those skills and improve my own business model. I can't recommend it enough."
Elaine's visit to Venice took place earlier this year and saw her witness first-hand how the city is trying to diversify its tourism offering by encouraging people to visit the outskirts of the city in a bid to counter the mass overcrowding and littering currently plaguing its tourism hotspots.
The practice, called sustainable tourism, also became a key focus for Elaine's own blog and has since helped shape her content to promote destinations and organisations across the globe that have sustainability at their heart and help boost rural areas and independent tourism operators.
She has also gone on to apply her newly acquired skills to visits to Portugal, Greece, Germany and Slovakia and will next year be speaking at TBEX – the world's largest networking event for travel media and bloggers. Looking ahead, she's excited to see what the future holds.
Elaine concluded: "I've improved my application of SEO on the blog, increased the number of followers and visitors and have struck up partnerships with organisations in the Sustainable Tourism and general tourism sectors so I've certainly achieved what I set out to do and more.
"Not only am I continuing to do what I love but I'm also helping educate and share my experiences with others, it's amazing. I can't wait to see how it develops from here.
"For anyone thinking of applying for the Erasmus for Young Entrepreneurs programme, I'd certainly recommend it. It may be challenging, but it's very worthwhile."
For more information contact Louise Hardy on 0191 516 6170 or email louise.hardy@ne-bic.co.uk