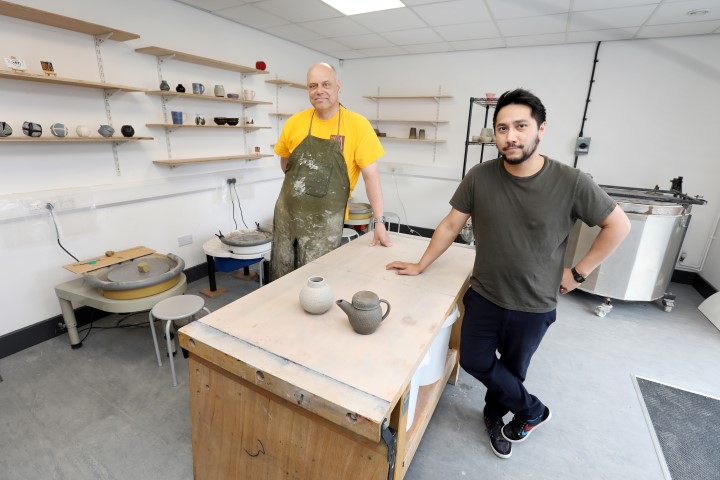 Two passionate potters have opened their own studio at the North East Business and Innovation Centre (BIC) to give others the chance to throw down some clay and have a spin on the wheel.
Having struggled to find the space at home for all of the equipment they needed for their craft, Alan Dunnighan and Nat Quinn struck upon the idea of creating a solution that could help others practice their pottery too.
A year-long search for the perfect spot finally led them to a riverside unit at the BIC in Sunderland, which they've converted into Spire Pottery – a fully equipped studio complete with six potter's wheels and a largescale kiln.
Here, they aim to provide people of all ages with access to pottery wheel time and instruction, hand building and making in stoneware clay – all within a friendly and relaxed environment.
Spire Pottery has now launched a range of beginners, intermediate and wheel courses and more experienced potters can take up weekend club membership or per session options so they can enjoy making and meeting likeminded pottery people.
Alan met pottery teacher Nat five years ago when he took up a college course after being inspired by the BBC TV programme The Great Pottery Throw Down and immediately became hooked on his new hobby.
"I was so excited when I discovered clay!" says Alan. "I always wanted to work with my hands but when I left school there weren't many outlets for that kind of thing and I ended up in other types of work. I feel like I'm 30 years behind but now I'm enjoying catching up!
"When I completed my formal course, it was tricky to find a way to spend time on the wheel and fire stuff in a kiln and that's how the idea for Spire Pottery came about.
"We knew there was a gap in the market for people who want to progress pottery as a hobby. Few people have the space at home for the equipment they need so after they've done a college course their spark just fizzles out. We want to give them the space and facilities to fully explore their passion."
Alan will continue his job in IT while running Spire Pottery at night and weekends with fulltime artist Nat but hopes the business can eventually replace an element of his working week.
The business partners have lots of plans for the future, including video lessons and bespoke courses and are utilising the BIC's onsite business advice team to explore ideas.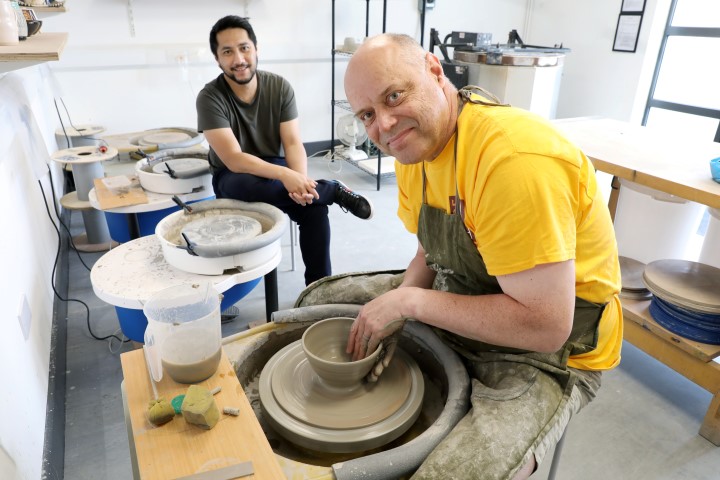 Alan said: "We are new to running a business so it's great to have the team by our side to point us in the right direction. That is one of the big pluses of being based here.
"We viewed so many other locations before stumbling across the BIC. Everything was either in the wrong location or too expensive. We saw lots of brick buildings with roller shutters and although they were reasonably priced you had overheads on top.

"As soon as we saw our lovely unit at the BIC we were sold! We even have an eye on a bigger unit on the park for the future. It's good to know it's easy to grow here without even changing your address."
Donna Surtees, Centre Manager at the BIC, said: "Spire Pottery is an example of the diverse range of new businesses that have opened up on our site over the past 12 months, bringing a great new buzz to the place.
"The fact that we can work with tenants to accommodate everything from a kiln and pottery wheels to gym equipment, bakery ovens and scientific labs and demonstrates the flexibility of the units we have onsite and our ongoing efforts to support the needs of the business community."
For more information about the workspaces and support available at the North East BIC click here or call 0191 516 6200.