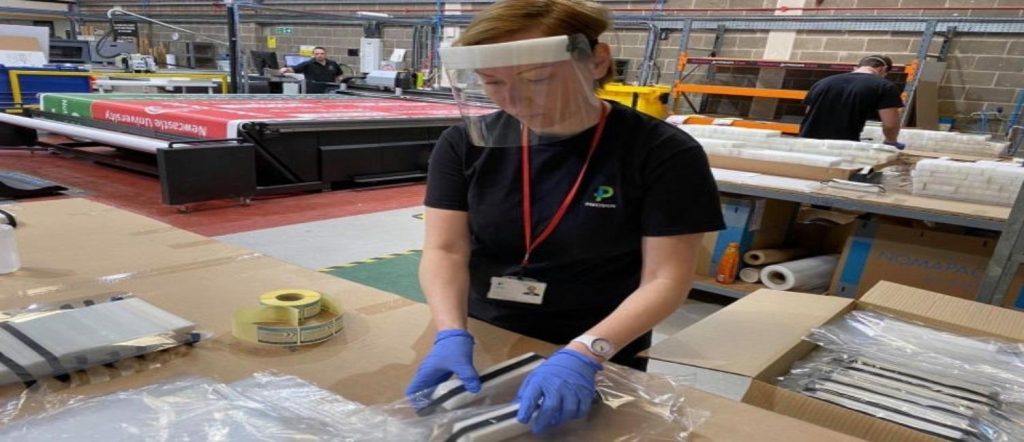 We've been delighted to see the response from many businesses across the UK and we are proud to see many BIC based businesses and clients adapting their operations to fight Covid19 and to support front line workers and those most in need.
Here's a few we've spotted in recent weeks.
I-Stage Group release charity single
The talented team at a UK entertainment company I-Stage Group have released a charity fundraising song 'We Are The World' to raise money for NHS Charities Together. Company Director Paul Waite said: "In these uncertain times it's important that we all stick together and this project certainly proved that." To listen to the single and find out more click here
Community of sewers make PPE
Tailor Frankie Bulmer launched The Little Sewing Mill back in 2014 with support from the BIC's start-up team. Frankie has now made around 500 scrub bags, as well as face masks and mask adapters for staff at Sunderland Royal Hospital. Read full story.
With her business currently closed due to the lockdown when she was contacted by some of the nurses to say they were in need of bags for putting their scrubs in the wash, Frankie offered to make them for free.
Precision Printing manufactures PPE
Three of the UK's leading print companies, including BIC-based Precision Printing have joined forces and are using their specialist machinery to manufacture much-needed PPE. Free digital training

Innovate for Good member Azalea Academy, are working hard to deliver basic digital training to those most at risk of social exclusion during the COVID-19 lockdown. The project will deliver laptops and training to families and individuals who are affected by abuse. CellNutrition gifts supplements

CellNutrition are giving something back to NHS staff in recognition of the extraordinary sacrifices they are making right now.

Totum Sport is a premium hydration and performance supplement which CellNutrition is shipping to as many hospitals as possible to help NHS and HSE workers. Find out more>>>
Free counselling for key workers
BIC tenant and start-up client Breakfree Counselling Services are offering free counselling to key workers delivering front-line services in the North East. The team want to do what they can and are offering this service via Skype/Zoom and telephone for the duration of the Coronavirus lockdown. To access this service email: support@breakfreecounselling.co.uk, or call 01915166080 / 07585138779 / 0758451601.
Virtual workplace assessments
Posture Team are offering free virtual workplace assessments to ensure those working from home are taking care. If you have any questions or just need some free advice then call them on 0191 516 6226.
Power Roll delivers vital PPE
Power Roll Limited has donated 50 hazmat suits as well as disposable gloves and high-spec face masks to ensure that adult social care professionals in Sunderland are able to deliver support to residents and stay protected at work. Full story>>>