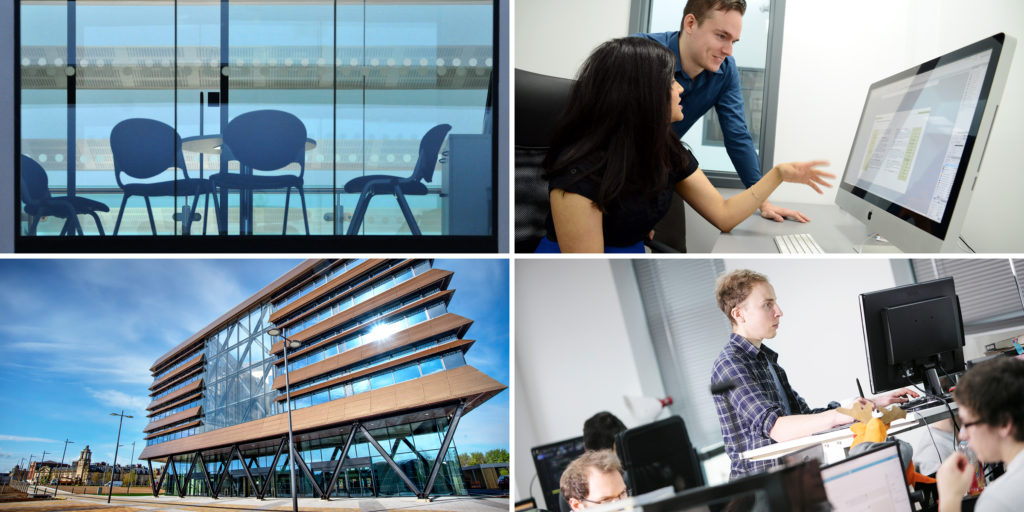 BARCLAYCARD and Bellway are among the big-name businesses to have invested in Sunderland in recent months, as the city's strengths in customer service continue to attract a host of the UK's best-known brands.
The city has recorded a number of significant commercial lettings over recent months, boosted by increasing activity in its buoyant professional services sector.
This has led to the creation of scores of jobs, with many more expected to follow, despite the uncertainty currently clouding the global property market in the midst of the Covid pandemic.
One of the most significant deals has been the relocation of almost 1,000 Barclaycard staff from Teesside to the banking giant's Doxford Park hub, off Admiral Way, following the closure of its Stockton operations centre.
A Barclays spokesperson said: "Barclays has been reviewing its geographic footprint, seeking to drive collaboration by bringing teams together to create efficiencies, driven by ongoing changes in the way people work and where people work.
"Bringing our teams together in Sunderland will enable us to innovate at pace for the customers and clients we serve and offer flexible career and development opportunities for our colleagues."
Another company making the call to relocate to Sunderland is the London Stock Exchange-listed housebuilder Bellway, which has acquired a 7,000 sq ft office at Rainton Bridge, on the outskirts of the city, with staff relocating to the hub from Darlington.
Rainton Bridge has also proven popular with business and professional services companies, with energy consultancy Direct Business Solutions (DBS) recently having agreed to take up a further 10,000 sq ft at its Franklin House office, as part of plans to create 100 new jobs, with Utilink Consulting also taking up 5,600 sq ft at Hylton Park on the north side of the city.
Teamed with the arrival of Ocado to Riverside Sunderland in 2019, a move that created 300 new jobs in the city, the area's strengths in customer service and its supply of high-quality office space are ensuring that new jobs continue to be created in this dynamic sector.
Councillor Graeme Miller, leader at Sunderland City Council, said: "The team at Sunderland City Council have worked tirelessly during the pandemic to not only support those businesses most affected by the crisis, but also to ensure the momentum that was building prior to the pandemic did not lose pace, and we're delighted see all of that hard work paying off.
"The decision by Barclaycard and Bellway to continue investing in the city, coupled with thousands of jobs being created at Riverside Sunderland and the £400 million International Advanced Manufacturing Park (IAMP) over the coming years, show just how strong of a footing the city is on as it takes the steps required to build for the future and ensure this significant activity in the market continues to grow.
"Economists and property experts the world-over were left speculating about the future of the property market post-covid, with firms such as JP Morgan and Twitter among those announcing plans to fully embrace remote or hybrid working models, so it's pleasing to see confidence returning to the market Sunderland and to see the city – once again – continuing to buck industry trends."
Another of the city's business hubs to benefit from the uplift in commercial activity in recent months is the North East Business & Innovation Centre (BIC), a location which – over the past 25 years – has played a key role in helping businesses set up and grow in the city and is now near full capacity, housing over 140 enterprises.
Paul McEldon, chief executive of the BIC, said: "When lockdown measures were first introduced in March last year, many of our tenants packed up their things and left with no idea of when – or in some cases if – they would ever return.
"However, since the easing of restrictions, we've been delighted with the response we've received not only from our existing tenants – who have returned in their droves – but also the wider business community.
"In the last three months alone, we've seen 40 new businesses relocate to the BIC and as a consequence, we are operating at near capacity for the first time in years, which is testament not only to the amazing work our staff have put in to make the BIC as safe and welcoming a place as possible, but also the fantastic resilience shown by the region's businesses to fight back and continue growing in the wake of the crisis."
Cllr Miller added: "It's been an exceptional few months for the city with thousands of jobs secured and set to be created at Nissan and Envision AESC. Coupled with professional services jobs, we're creating a stronger, more resilient economy.
"This is just the start. With Riverside Sunderland taking shape, IAMP moving forward apace and Hillthorn Park now set to advance, the building blocks are in place to deliver more space for ambitious businesses and we're confident that there will be more deals to follow, creating highly skilled jobs for local people and further underlining the message that Sunderland is a city ready and open for business." For more information on Sunderland as a city to do business, visit: https://www.mysunderland.co.uk/business-and-investment or follow @InvestSundUK.
For more information about workspace at the BIC call 0191 516 6200 or click here.