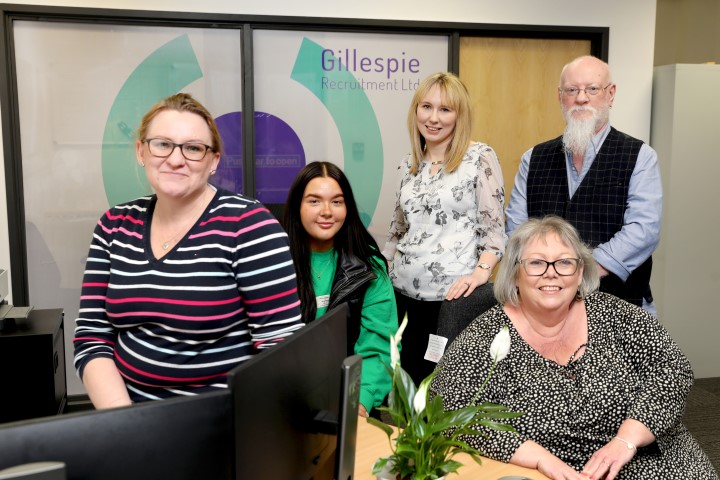 A recruitment consultancy born out of the pandemic has announced ambitious plans to boost its own headcount after only nine months in business.
Gillespie Recruitment, set up by consultant-turned-entrepreneur Laura Gillespie in May, has relocated to a new office three times the size of its original space as it looks to create jobs of its own in the coming months.
Laura, who has more than 30 years' experience in recruitment, media sales, marketing and fundraising, launched the business while working from home and becoming disillusioned with the traditional way of working across the industry.
She said: "Recruitment has traditionally been seen as a very stressful industry and I wanted to change that, so I set out to really turn the sector on its head by focusing more on our company culture rather than company profit.
"By fully embracing flexible working, we've been able to ensure our employees benefit from the best possible work-life balance and create a workplace culture that champions personal and professional development, by really caring and catering for their needs, be it training and upskilling or opportunities to grow within the business."
Laura's approach to how she does business has been shaped not only by her experience, but also a business mentor, which is something she had never considered until becoming her own boss. Not only has this allowed her to step back and look at the business from a client and employee's perspective, but also scale the business at pace.
"The past nine months have been a real whirlwind," she added. "What started as just me, working from a small office, quickly grew into a team of four employees and the business smashing our 12-month growth targets within just six months.
"This is why I decided to start working with Graham [Sleep]. To be in a position where my business plan had served its purpose so swiftly was exciting but also really scary and so it was great to have someone to bounce ideas off and ensure we were on the right track throughout."
When looking for office space, Laura chose the North East BIC as she had previously been based there with two former employers.
Situated just off the A19, the BIC provides flexible workspaces allowing small and medium sized businesses to grow at a rate that is sustainable, and this flexibility has been key to helping Laura scale the business.
She said: "We're now a team of five and have plans to create a further four jobs over the coming months, including two apprentices in digital marketing and business admin. It's been a real learning curve however I can't thank the team at the BIC enough for their support.
"Being able to relocate to a new office without changing our business address and moving heaven and earth has been fantastic, I really think we would've struggled to grow at this pace had we been based anywhere else."
Donna Surtees, centre manager at the BIC, said: "Seeing Laura take what was an idea during the pandemic to a fast-growing business in such a short space of time has been absolutely incredible.
"As a company specialising in recruitment, her success in building a business that is not just focused on profitability but also people, and shows just how much of an appetite there is among the business community to work with ethical organisations that put people at the heart at what they do, and we're delighted to have supported her journey so far."
To find out more about workspace at the BIC, click here.