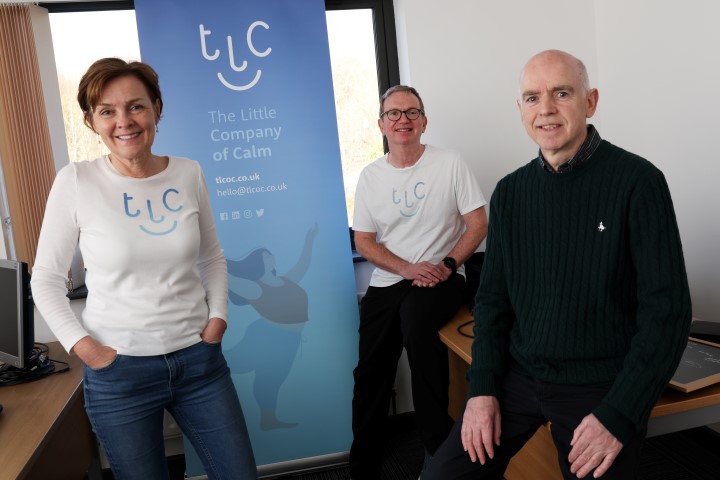 Three friends who've brought calm to their own lives are now on a mission to make mindfulness affordable and accessible to everyone in Sunderland.
Andy Carton, Joe Glancy and Liz McEvoy discovered the benefits of mindfulness a decade ago and came together to find a way of sharing tools and techniques with others.
The trio formed The Little Company of Calm last year as a not-for-profit company to offer high quality mindfulness courses, activities and retreats to the community.
Originally operating from home, the team have now moved their Community Interest Company to a dedicated unit at the North East BIC on the banks of the River Wear in Sunderland as part of a plan to expand.
"We've each studied and practiced mindfulness for a long time and have personal experience of how it can make us more resilient and better able to cope with the stresses and strains of daily life," said Co-Founder and Director Andy.
"We wanted to do our bit to support the health and wellbeing of the city and realised our shared passion for mindfulness was a perfect way to do that.
"Mindfulness is proven to be effective for people recovering from depression. We think there's a huge and an exciting opportunity to equip people with tools they can incorporate into their daily lives to really make a difference."
The Little Company of Calm has developed a range of courses, that are delivered either online or in-person, in a friendly and supportive environment. Suitable for beginners, right through to advanced students, there is a choice of 30 or 60-minute sessions, some based around themes such as movement or nature. The company is also one of the few providers in the region, with teachers certified to teach MBSR (Mindfulness Based Stress Reduction) and MBCT (Mindfulness Based Cognitive Therapy).
The business secured funding to deliver some courses for free and now aims to explore more opportunities to work more with health professionals and employers.
Andy added: "Community is at the very heart of this venture. All three of us have worked for a long time at Sunderland City Council in roles ranging from children's services to HR and housing so we understand the city well and its people. We can see opportunities for mindfulness to support these areas of life – as well as many others."
The trio worked with the BIC's resident experts in social enterprise, Kevin Marquis and Ernest Dodds, to set up and structure their Community Interest Company and it was that experience that led them to choose the business park for their new home.
"Kevin and Ernest helped us to formulate our ideas right back at the beginning and we've never forgotten that," said Andy.
"So, when we got to the stage where we were looking for a more professional environment for our business, the BIC was an obvious choice. To have that level of business support expertise on our doorstep is just fantastic and we liked the idea of being part of a ready-made business community."
Donna Surtees, Centre Manager at the North East BIC, said: "The Little Company of Calm's decision to locate here is testament to the supportive environment we have created to nurture businesses in Sunderland.
"Not only do we have flexible office space and facilities, but also expert support services our tenants can use for free to grow their businesses and exploit new opportunities."
If you're looking to start or grow your own social enterprise, contact the team on 0191 516 6138 or click here.